Scott Carlson, driver for Regal Service Company of Ripley, N.Y., where he also lives, hit the Reader Rigs Gallery as well as my inbox with this shot of the 2015 Peterbilt 389 glider Regal put together and which he drives: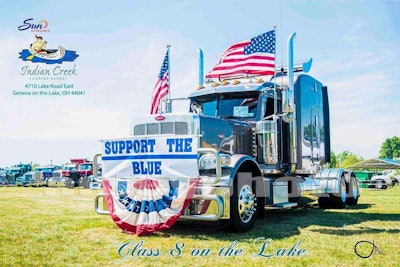 As noted on the picture, it comes from the Class 8 on the Lake truck show, hosted Saturday, July 23, in Geneva on the Lake, Ohio, by the Pennsylvania and Ohio chapters of the Antique Truck Club of America. Geneva's fairly close to where Carlson lives in Ripley, and he does the show every year, he says, often with some kind of banner treatment such as this. This year, friends among the show organizers asked "if I would put up a banner supporting law enforcement."
It's certainly a message he supports. Enforcement of course gets harped on in the trucking community often — regular readers may recall Carlson himself from the lead piece in the 2014 edition of the CSA's Data Trail series in part about the state of Indiana's moving-violations-issuing propensity. At once, however, "as we both know in trucking and law enforcement it only takes a few people to make all of us look bad," Carlson says. He thought the gesture "would show that we support them even though many drivers think they are the enemy."
The banner was made by the Miller's A.P.S. LLC company of Erie, Pa., with whom Carlson's worked in the past. When the company found out "what I was going to do with it," says Carlson, they "donated it," saying all they wanted "was a 'good picture of your truck with the banner on it.' 'We can do that,' I said."
In addition to Geneva on the Lake Police Department reps who showed up with their own vehicles to take a picture with the unit (see below), among the more memorable encounters, Carlson says, was with a woman who approached him, "gave me a hug and shook my hand. I was trying to figure out what that was about, and she said 'I'm a Trumbull County Sheriff'" from nearby.
Carlson's unit was at the head of the lights parade that followed the show. Rich Hart of Pierpont, Ohio, owner-operator of a custom 389 you may have seen showing as a combo at Mid-America this year, ran behind Carlson. "He brought that truck," Carlson says. "When he flips a switch the lights all go blue. He was right behind me." Quite a nice display, he adds.