Owner-operator Eric Turner began to take his father's Atlanta-area towing business a step further after he finished school in the 1990s. The 39-year-old saw opportunity and began utilizing two-car roll-back flatbed straight trucks to run two cars at a time to and from auto auctions and other locations in the area. Over time, he acquired a bigger truck, taking car hauling to another level entirely in 2004 when his wife and business partner, Stacey, urged him to take it all further and grow the one-truck business.
Today, as he details in the video above, the business is up to 7 trucks all told, and its most recent addition to the fleet, the 2015 Peterbilt 389 glider kit (Detroit-powered) shown above and with Turner himself here, is the fourth glider Turner and company have added. As he details in the video, emissions issues with post-2007 model year engines were what drove him toward Fitzgerald Glider Kits, the company he's worked with on each.
Take a run through the business' history — and the truck — in brief in the video, complete with numerous views of the 2015 tractor and 2016 Wally Mo open-car hauler (don't see many of those in Pride & Polish competition) — the combo took home Best of Show in working combo at the Crossville show this past weekend, a fine outcome for a first show, wouldn't you say?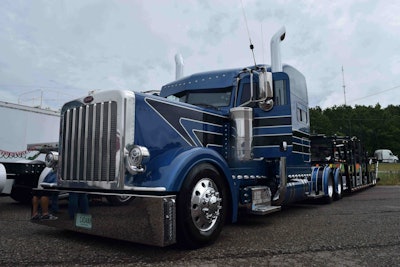 At the show, well before the crew in tow with him — his wife, Stacey; youngest sons Braxton and Carter; his father-in-law; and fellow Turner Transport drivers Warren Wiseman and Dane Thomas — knew of their Best of Show finish, Turner was confident, as you'll see in the vid, for his future show participation. He urged competitors to pick up their game. "We're here to stay," he said.
See you in Dallas, Eric.