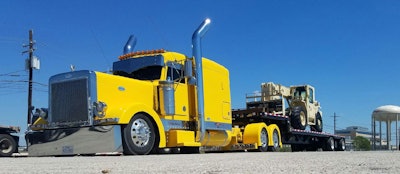 Ray French Jr.'s one-of-a-kind Pete, named "Chicken Thang," is hard to miss when it's rolling down the highway.
French, 59, has been driving for the better part of 40 years, continuing the legacy of his father and grandfather who were also truckers. He picked up the "Chicken Thang" nickname himself in his younger years because he "used to run around like a chicken with its head cut off," he says.
The truck, a 2002 Peterbilt 379, is a unique bright yellow that French says is the only one like it out there. "There are some trucks that are close, but this is a one-off yellow," he says. "The painter used a white primer instead of the normal gray as the base coat, which makes for a brighter color."
Some unique features on the truck include the stainless steel panel with "Chicken Thang" written in it below the doors, a flaming rooster that lights up in a stainless steel panel on the bottom of the sleeper, as well as the oval window on the back of the cab with "God is Awesome" written across it. The hood ornament is a rooster with glowing blue eyes that French says has been with him for 30 years.
The interior of the truck features a throwback look that French says was inspired by diner chairs in the 1960s and 1970s with a blue with metallic flakes scheme. It also has a fiberglass floor, which French says he likes because it's durable and easy to clean.
"Chicken Thang," French's third yellow truck, took about a year to build into what it is now. He bought the truck in 2004 from Werner. French operates under his own authority as Chicken Thang Express and hauls step deck or reefer freight within a 300-mile radius of Houston, Texas.