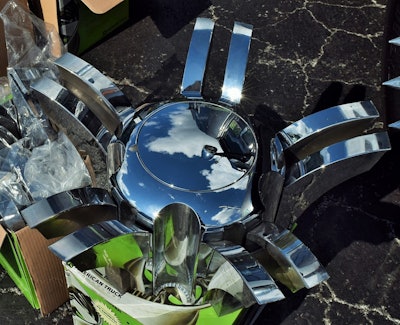 The chromed-plastic wheel covers above are the Spyder style for 22.5s by the American Truck Technology company. They're pictured next to the 2012 Kenworth T660 of Swift-leased Michael and Tammy Groom, who in late September had fairly recently taken them off the hubs of the Cummins 400-powered unit in favor of a newer style the same company was offering, its Viper covers:
There's more than just aesthetics driving the choice, Michael says. When the Spyder covers were still on the rig, someone at a Texas truck stop decided "they needed one of my center caps more than I did." When he called the American Truck Technology company about potentially ordering a replacement, on a Sunday afternoon, he was surprised to learn he was talking to the head of the company on the other end of the line, who gave Groom his cell number.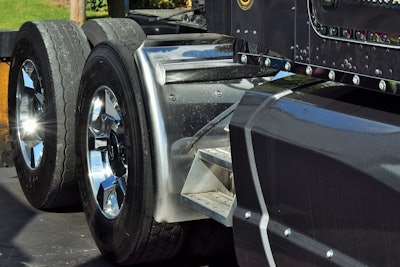 "He told me next time I was at an authorized dealer to have him call me and he'd give me the part for free," Groom says. "And he lived up to his word. Finally, they came out with this new style," and Tammy had to have them, he says, which she confirms.
The Grooms are a great couple with an upbeat attitude — I was glad to have come across them on my way out of the final day of the Guilty by Association Truck Show a couple months back.
They were just five weeks from making the final payment on the T660, though their route toward that destination hadn't been an entirely straight one. "I've put $50,000-$60,000 worth in repairs to the emissions system in five years," says Groom, but nothing since he started using a fuel additive he put in a "shameless plug" for, he joked. "Lucas Oil has a Diesel Deep Clean product" formulated for exhaust systems with DPFs.
"It works," he says. Read more about its development via this link.