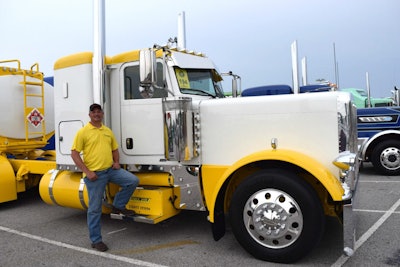 For the third time in four years, Bill Rethwisch earned Best of Show honors with his 2016 Peterbilt 389 at Shell Rotella's SuperRigs competition, earning a total of $15,000 and a spot in the 2018 Rotella SuperRigs calendar. He also took home Best of Show in 2014 and 2015.
The Tomah, Wisconsin-based trucker also won in the Best Interior and Best Engine categories in the show held in Tulsa, Okla., May 18-20. He was awarded $10,000 from Shell Rotella for winning the show and $5,000 from MAC trailer.
"My heart was coming out of my chest; I didn't think we had it." Rethwisch said. "This is the third time in four years and four times in the (SuperRigs) calendar out of four tries. I'm ecstatic right now. I'm so proud; I don't even know which way to think."
J.R. Schleuger of Britt, Iowa, won Best of Show first runner-up with his 1980 Kenworth W900, as well as Best Chrome. Kenneth Fisher of Muscoda, Sis., was awarded Best of Show second runner-up with his 1997 Peterbilt 379.
A full list of the show's winners follows:
Best of Show
Bill Rethwisch, Tomah, Wis.
2016 Peterbilt 389
Best of Show 1st Runner Up
J.R. Schleuger, Britt, Iowa
1980 Kenworth W900A
Best of Show 2nd Runner Up
Kenneth Fisher, Muscoda, Wis.
1997 Peterbilt 379/2015 Reitnouer
Working Truck/Limited Mileage
Brandon Avant, Hampton, Ark.
2010 Peterbilt 379
Brady Quade, Pocahontas, Ill.
2016 Kenworth W900L
Sid Calangelo, Carthage, Mo.
2008 Kenworth W900/2017 Great Dane Dry Van
Most Hard Working Trucker
Hills Construction, Hempstead, Texas
2007 Freightliner Coronado
People's Choice
Grant Alderman, Union Grove, Wis.
2008 Peterbilt 389
Show Truck
Jake Lindamood, Irving, Texas
2017 Peterbilt 389
Dave Van Haitsma, Zeeland, Mich.
1995 Kenworth W900L/2016 Utility Dry Van 53
Grant Alderman, Union Grove, Wis.
2008 Peterbilt 389
Best Engine
Bill Rethwisch, Tomah, Wis.
2016 Peterbilt 389
Best Lights
Justin Nodorft/Brian Pete, Mineral Point, Wis.
2015 Peterbilt 389 Glider/2017 MAC Tank
Best Chrome
JR Schleuger, Britt, Iowa
1980 Kenworth W900A
Best Theme
Jake Robak, Rice, Minn.
2006 Peterbilt 379 Cottrel Car Carrier
Best Interior
Bill Rethwisch, Tomah, Wis.
2016 Peterbilt 389
1st Place Tractor/Trailer Division
Brad Garetson, Lake Mills, Wis.
2016 Peterbilt 389/2017 MAC Flatbed Conestoga
2nd Place Tractor/Trailer Division
Kiegan Nelson, Onalaska, Wis.
2013 Peterbilt 389/2016 Reitenour Big Bubba Curtain Side Flatbed
3rd Place Tractor/Trailer Division
Robbie Basse, Hinton, Okla.
2016 Kenworth W900 Icon/2016 Fortune Infinity
4th Place Tractor/Trailer Division
Brian Dreher, Campbellsport, Wis.
2016 Peterbilt 389/2016 Great Dane Reefer
5th Place Tractor/Trailer Division
Colton Chase, Kismet, Kan.
2002 Peterbilt 379; 2018 Timpte Super Hopper
1st Place Tractor Division
Ray and Suzie Rodriquez, Salinas, Calif.
1999 Peterbilt 379 EXD
2nd Place Tractor Division
Robby Robinson, Lake City, Fla.
2015 Kenworth T660
3rd Place Tractor Division
Jake Robak, Rice, Minn.
2006 Peterbilt 379 Cottrel Car Carrier
4th Place Tractor Division
Jason Krause, Sutton, Neb.
2017 Peterbilt 389
5th Place Tractor Division
Kenny Graber, Patridge, Kan.
1998 Kenworth W900L
1st Place Classic Division
Jayme and Whitney Snow, Berryville, Ark
1999 Classic XL Freightliner/2015 Great Dane Stainless Steel Dry Van
2nd Place Classic Division
Terry Aslinger, Marquand, Mo.
1996 Peterbilt 379 EXD/2013 Shipshewana trailer
3rd Place Classic Division
Daniel and Phyllis Snow, Harrison, Ark.
1996 Freightliner Classic XL
4th Place Classic Division
Scott Graham, Wagoner, Okla.
1999 Kenworth W900
5th Place Classic Division
Joe Dean Davenport, Siloam Spring, Ark.
1998 Kenworth W900L