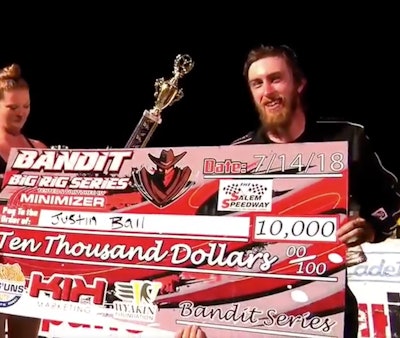 The Minimizer Bandit Big Rig Series saw a first-time winner this past weekend at Salem Speedway in Salem, Ind., as Justin Ball finally got over the hump to earn the first win of his career.
For Ball, his win on July 14 lifted a weight off his shoulders after finishing in the top five in 10 out of 12 races in 2017, along with two top fives in three races in 2018.
"It's been a long time coming," Ball said. "Tonight was finally the night."
Ball started the race in eighth and quickly worked his way up into the top five. Marshall Davis, who started in second, jumped out to an early lead and led the field by half a lap before a caution flag flew on lap 15 of 30 for damage to Mark Noble's rig.
On the restart, Ricky "Rude" Proffitt took the lead and Ball grabbed second, staying on Proffitt's rear bumper for the next few laps before another caution on lap 21, prompted by Cody Slowinski colliding with the wall due to a flat tire.
The next restart saw Ball grab the lead from Proffitt and never look back. He extended his lead by four truck lengths before earning the checkered flag and claiming the first victory of his career. Rounding out the top five behind Ball and Proffitt were Mike Morgan, Mike Ward and Davis.
The Bandit racers are scheduled for a double header in two weeks with a race on July 28 at La Crosse Fairgrounds Speedway in La Crosse, Wis., before returning to Hawkeye Downs Speedway in Cedar Rapids, Iowa, on July 29 to finish a weather-shortened event from June 9. Racers will only run the two challenge races and the feature race at Hawkeye Downs to finish the action from last month.