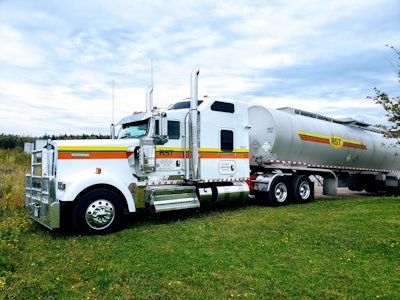 This 2019 Kenworth W900L is owned by Adam Stiles out of Sackville, New Brunswick, Canada. The truck is powered by a 500-hp Cummins X15 Efficiency Series and an 18-speed Eaton-Fuller with 40,000-pound Eaton 3:55 rears. Stiles runs mostly in the Atlantic provinces of Canada hauling dry bulk pneumatic tankers and liquid tankers. He's been in trucking since 1996 and became an owner-operator in 2017.
He has a PTO-powered drum rotary lobe blower mounted to the frame for high-volume air for off-loading dry bulk products such as lime, fly ash, soda ash and more. Stiles has added a 12-Gauge Customs stainless drop visor, custom stainless panels and lights built by Landry Truck Body, a custom air/electrical box built by Landry, rear stainless tail light panels and more.
Click here to see more photos of reader uploads or to submit your own.