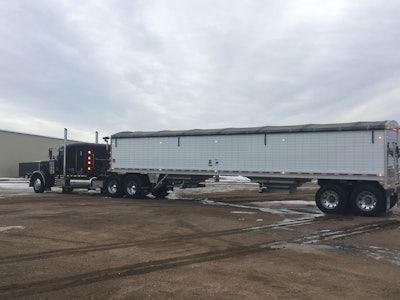 This 2001 Peterbilt 379 is owned by Bryan Rogers out of Wray, Colorado. The rig is equipped with a 6NZ Cat C15 single turbo, which has had some work over the years. Its current rebuild has about 200,000 miles on it. When it was rebuilt, it was turned up to 680-hp, where it remains. The engine is backed by an Eaton-fuller 18-speed. Rogers hasn't added much custom work other than LED lights all around the truck, inside and out, and some chrome. Rogers uses the rig on his family farm, hauling mostly liquid fertilizer, corn, wheat, edible kidney and pinto beans, and occasionally square bales.
Rogers' parents, Don and Susan, started the farm in the early 1980s, and Bryan and his wife Sheila have been working on it for the last 11 years. He has owned this truck for eight years.
Click here to see more photos of reader uploads or to submit your own.