[youtube r9b4zTmDI2Y nolink]
A run with Ted Bowers from Nashville, Tenn., well up into Illinois en route to St. Louis and beyond yesterday, March 1, yielded in part the video above, a bit of an update on what the East Tennessee-based independent and small fleet owner has put into his custom flat-top 2005 Peterbilt 379 of late. The rig, facing down an engine rebuild for the C15 that powers the unit later this month, has gotten new headlights, stacks and, perhaps most significantly a three-foot frame stretch to a 276-inch wheelbase, complete with a unique deckplate treatment.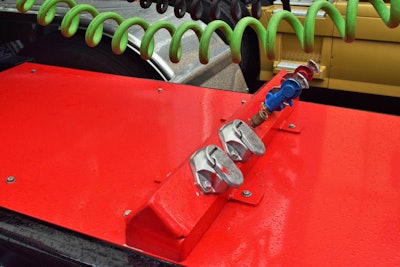 Watch the video above for more about the pictured custom box Bowers, ever attentive to detail, built to secure his air and electrical lines when running bobtail. You'll find more views on and information about the rig there, too.
And for a vid from prior to the stretch, follow the link below to coverage of it from Overdrive's Tennessee Pride & Polish edition at Fitzgerald Glider Kits in 2014.