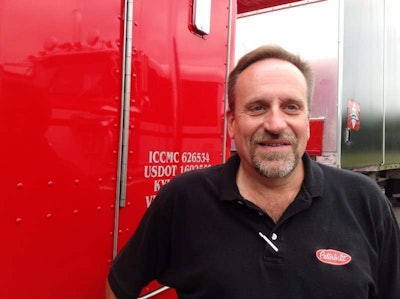 Independent owner-operator Ted Bowers I met for the first time, if memory serves, at the American Truck Historical Society Music City Chapter's new-year auction out in Cookeville, Tenn., in early 2012. That's where he told about his big Southeast Regional Truck Show in East Knoxville that year, which brought together scads of antique and custom-truck owners; last year it was held in Harriman west of Knoxville.
It didn't happen this year for a variety of reasons, and Bowers, as he explains in the video below, actually spent some time away from the road, where he's made his way as an independent going on four decades.
He lasted about three weeks working dispatch phones, he says. "I tell everybody they fired me for telling the truth to a truck driver," he jokes, but in reality he just realized where he was called. Luckily, his brilliant 2005 Peterbilt 379, powered by a 475-hp Caterpillar C15 modified to produce around 700 hp, was still there waiting for him. He talks a bit about all of this in the video below. Under that, catch a photo gallery of images of his rig, too.
And for those of you headed out to the Great American Trucking Show in Dallas Thursday-Saturday this week, Bowers plans to show in the Pride & Polish event there, his second of the year. When I talked to him yesterday he was set to deliver a load to Gulfport, Miss., and from there he was Dallas-bound.
See you at the show!
[youtube skENry86lr4&list=PL8173C3C67B03ED0A nolink]
Follow-up: Bella making her way to Georgia
I followed up briefly with Animal Aid USA's Karen Talbot yesterday, who noted some interest coming from readers after my post Tuesday last week about Talbot and company's efforts to return fallen driver Richard Sullivan's dog, Bella, to Sullivan's surviving family in Georgia. Sullivan passed away following an accident far from home in Pennsylvania. As regular readers will remember, Talbot was hopeful to locate drivers on the south end of her trip for a homecoming convoy on the way in to Chatsforth in North Georgia. If you're interested in participating Thursday, contact Karen via email or phone: talbotk@animalaidusa.org or 609-665-1224. Visit her Animal Aid USA website via this link.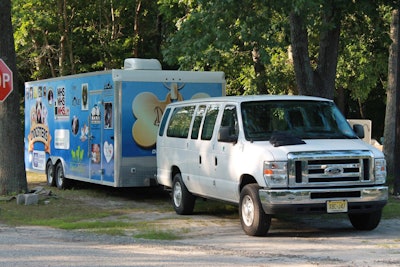 I'll be on my way to Dallas as Talbot and company set off from Shippensburg, Pa., tomorrow evening. If you see her van and trailer on her route, which I detailed in the prior post, overnight, she hopes you'll flash your lights in Sullivan's memory. When I heard from her late yesterday, all plans, down to the custom wrap on the van she'll be traveling in, were a go.