Working in and with this 2007 Peterbilt 379, powered by an '06 emissions-spec Caterpillar C16, has been something of a dream come true this year for operator Andrew Reed, whom I met when he showed the truck last month at the Large Cars & Guitars truck show in Tennessee.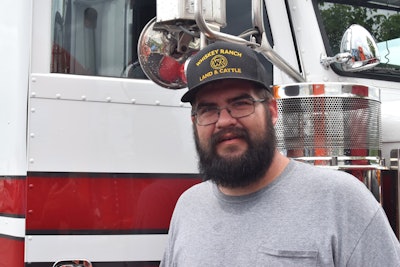 In the video above, Reed chronicles the rebuild by Lewis Transfer shop personnel, beginning last year with removal of the cab and sleeper and extensive repainting -- the truck originally had an orange and blue scheme -- from the red frame all the way up to painting the double wide striping that runs the length of the rig. Lewis personnel did all that, then for pinstriping turned the unit over to Ashland, Kentucky-based Xtreme Kustom Paint.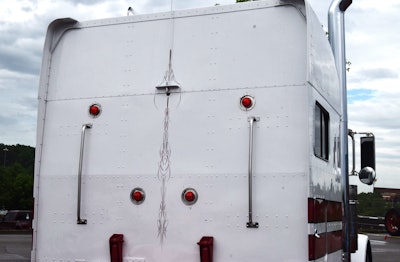 Along the way, the interior was touched up with chrome bezels on the dash, red map lights and more.
After Reed took the rig's reins, he noticed the wood-grain original dash panels starting to peel and came across Michigan-based Rip It Up Customs on TikTok, where the owner advertised his dash work. Some consultation, direction, $600 and little more than a week later, Reed was sitting in a very long line at a Blue Beacon truck wash and getting to work installing the new paneling. Catch plenty views of it in the video.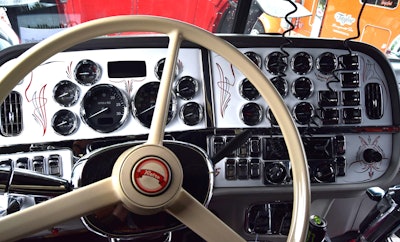 It's a fine specimen of a truck, no doubt.
---
For more video work and custom-equipment features delivered to your email inbox, subscribe to Overdrive's weekly Custom Rigs newsletter via this link.