Transcript
This custom black and red Peterbilt 379 "was a complete rag" when Brandon Burroughs, a driver for four-truck T&M Haulers, started working on it. Now it's been completely transformed to meet Burroughs' style.
Burroughs showed this truck off at the 2022 Mayberry Truck Show in Mt. Airy, North Carolina.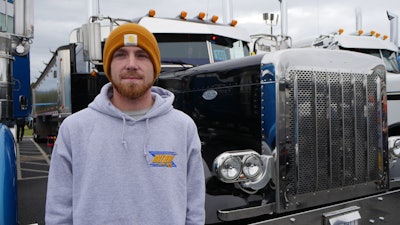 Other than the basic colors of the truck that were chosen by Carroll -- black with a red frame -- Burroughs said he and his family outfitted the truck with most of the rest of the custom touches on the rig.
"I was able to pick out everything on it, put all my touches on it, and he paid for everything," Burroughs said.
Among custom additions Burroughs added were a bigger bumper, a new grille, new visor and new breathers, in addition to some interior customizations. "Everything's new on the truck besides the fuel tanks," Burroughs said.
Under the hood, the truck features a Cat C15 with an 18-speed and 3:55 rears. Burroughs said that will be the setup until something happens to the engine, then he and the company might explore "some goodies under there," he said.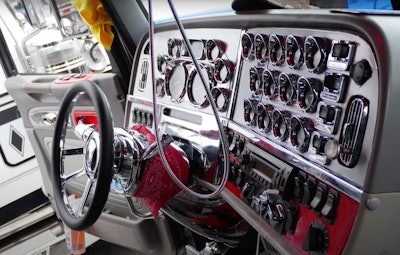 At the Mayberry show, the truck was coupled with a 2021 East dump that features a full lights package with long fenders, but Burroughs said he usually pulls a tanker.
Overall, Burroughs said the truck is "nothing really fancy, it's just a work truck."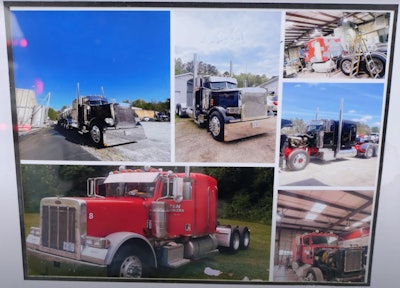 Transcript
Brandon Burroughs:
I mean, it was a complete rag when we first started on it. It took, I'd say, eight months maybe all together.
My name is Brandon Burroughs. I'm out of Zebulon, North Carolina. I drive for a guy out of, Four Oaks North Carolina. His name's Andrew Carroll. We haul liquid fertilizer, dry fertilizer, pretty much anything that will go in a tanker or a dump. I drive a 2007 Peterbilt 379. It's got a Caterpillar C15 in it, it's got a 18 speed transmission in it, and it's 355 rears. We've pretty much redone the whole truck. It started out red, and the boss man wanted a black truck with a red frame, so that's what we done. And I was able to pick out everything to go on it, put all my touches on it, put the big bumper on it, the new grill, visor, breathers.
Yeah, we did the glass watermelons all over it. Then, we did the LED watermelon lights all over it. We pretty much just painted a couple parts, wrapped a couple parts, and put all the gauge covers, the low seats in it, different pedals, and I got a 14 inch steering wheel in it. And that's pretty much it, man. We just went just for the clean look, I guess you would say.
I mean, it's nothing really fancy. It's just a work truck.