Transcript
Hull, Iowa-based Van Der Zwaag Customs currently uses this custom 1995 Peterbilt 379 as the shop's rolling billboard. It competes at truck shows and also runs out West weekly.
VDZ Customs Shop Foreman Jeremy Darnell showed the truck at the Shell Rotella SuperRigs working truck show in June, where the truck placed fifth in the Tractor Division.
"This is our rolling billboard for now, and every couple years we'll swap it out for another one a little bit better," Darnell said.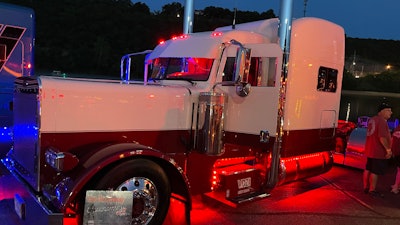 The "Spare Parts" 379 in the video up top came out of Texas and was "just a pile of parts when we bought it," Darnell said. It was basically just a frame and an empty cab at the time. VDZ Customs bought another truck that had been rolled over to pull out the interior.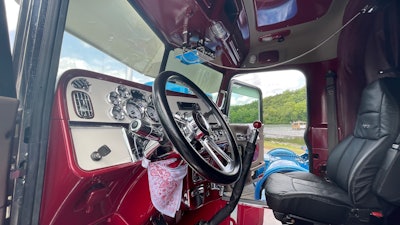 VDZ Customs makes most of its own parts, and what it can't make themselves, a machinist that lives nearby can make just about anything, Darnell said.
The build process on this 379 took about five months, and it was "basically a ground-up build all the way," Darnell said. In addition to the exterior custom touches, the shop also does its own air ride suspensions to "try and give it a nice little ride," he added.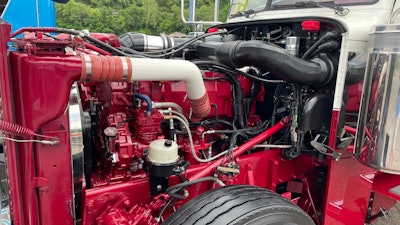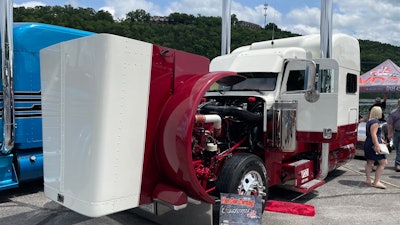 Despite its show-quality looks, the truck does work weekly, hauling meat out of Omaha, Nebraska, to the West Coast and bringing produce or dry goods back. Trevor Coufal, who drives the truck on a regular basis, said he often goes to Seattle or Los Angeles, and sometimes Portland or Phoenix, for seven to 10 drops across a city before loading to come back to the Midwest.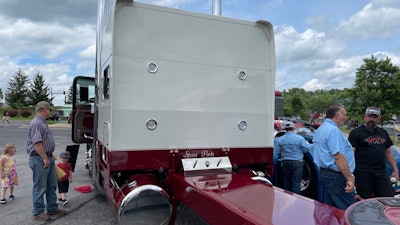 Transcript
Jeremy Darnell:
Jeremy Darnell, shop foreman at Van Der Zwaag Customs. We build customs all the way from the ground up. If it's on a truck, we'll do it. Yeah, we like thinking outside the box, trying to do stuff a little bit different and do a lot of customer trucks if they... Depending on what... We try to build the trucks to their taste, and if they've got a dream, we can usually make it happen.
This one's a '95. It actually come out of Texas, it was basically a pile of parts when we bought it. It was just the frame and the cab, and the cab was an empty shell, so we actually bought another rolled over truck just for the interior and stuff. It's basically a ground-up build. We do our own custom air ride, or our own air ride, try and get a nice little ride. Went through a couple of different models before we found the one that was right. The interior's actually swapped out of a '07. It's all painted up nice, painted floor, custom dash with all custom gauges from empty lights. Everything's in-house, it's all paint.
We don't like stickers, except for the names on the truck. Otherwise we try to keep it all paint. So, Van Der Zwaag Customs out of Hull, Iowa. We're on Facebook, Instagram, vdzcustoms.com.
Check us out. Like I said, a lot of the stuff we custom make. We got a local machinist we work a lot with, he's a huge help, and some parts that we can't get, sometimes he can get by and just make them for us. Some parts have been a struggle, but we've always made do. And stuff, the mirror brackets are our own. We designed them and made them. They're a little bit wider than the factory ones, they get rid of a lot of the shakes. This is our rolling billboard for now and every couple of years we'll swap it out with another one a little bit better. This truck actually goes to the West coast every week, and we put it to work and we work it hard.