Transcript
Lakeland, Florida-based Bubba Branch, owner of Atlas Heavy Haul, showed this immaculate 1996 Kenworth W900 at the 2022 Shell Rotella SuperRigs working truck show in Branson, Missouri.
Branch, who started his Atlas Heavy Haul business in 2017, has gone all through this truck and customized it from front to rear. The customizations earned the rig several awards at SuperRigs, including Best Chrome, Best Engine, and second place in Working Truck - Limited Mileage.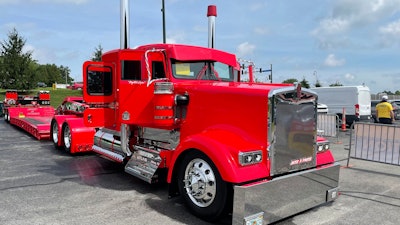 The "Just a Phase" moniker harks back to Branch's childhood, when the family would wait around the phone for a call from the road from his trucking father. One day when he called, Bubba was playing with toy trucks in the floor, and his mother told his father, "You better get this boy of yours; he's driving me insane. Truck this, truck that. Trucks everywhere on the floor. I can't clean the house."
"As she was handing me the phone, I overheard him say, 'Hey, leave that boy alone, it's just a phase. He'll grow out of it,'" Branch said. "Here I am 44 years old, still playing with trucks. Don't know how much of a phase it was, but we'll find out one day."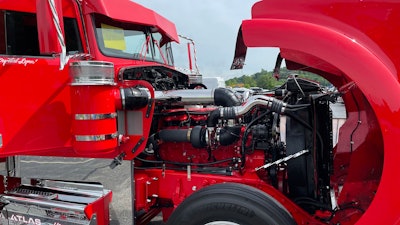 A number of custom shops played a role in building "Just a Phase," including Spare Time Fab, which did the sleeper interior; Talladega Fiberglass on the T-bars and deck cover; Roadsknz with the tank straps; Johnson Customs, who added the big hole in the sleeper; Truck'n Awesome, who did the interior panels in the cab; and others.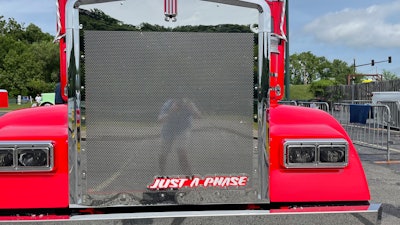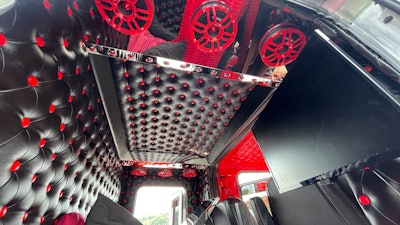 Branch and his wife, Krystal, created the custom floor in the truck, and his son Colt painted the dash.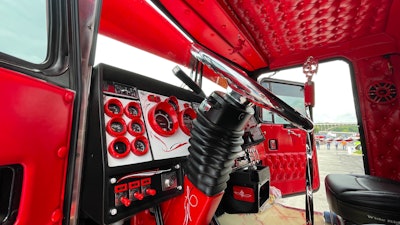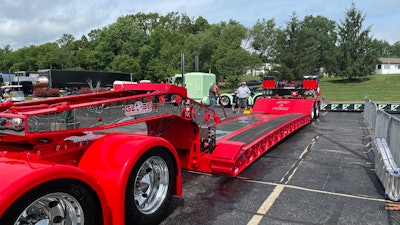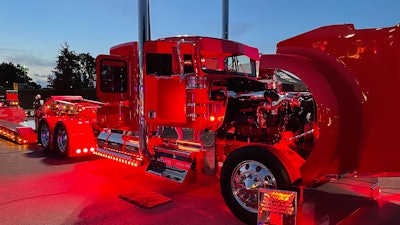 Transcript
Bubba Branch: My name is Bubba Branch, out of Lakeland, Florida. My company is Atlas Heavy Haul. I currently run 10 trucks, and "Just a Phase" here behind me is the 11th one. She works part-time. She's 1996 W900. She got a 3406E Cat in it, 18-speed, 3:55 rears, 275 wheel base pulling a 2021 Globe 55-ton detach.
We've customized most all the truck. We went through everything on it from basically the ground up. We'll start off from the front. We have a custom grille by SH Tube, stainless steel grille with the name laser etched in it. We did the custom mirror brackets by SH Tube as well. And we got a Talladega Fiberglass visor, Dynaflex seven inch stove pipe stacks on it.
All the straps are wrapped with the Roadsknz and the tanks are wrapped Roadsknz, stainless steel wraps. And Johnson Customs did the big hole in the sleeper for us, up there in Wisconsin. And we have all kind of stuff. Stainless steel twisted shifter inside, custom floor in it my wife and I did, and my kids helped work on it too. My son here, Colt, painted the dash on it. My wife did all the interior inside, put all the panels in.
The bunk interior was done by Randy out of Spare Time Fab. The interior on the truck side was Truck'n Awesome out of Bogata, Texas, that did them panels and the roof on it. My oldest boy, Preston, owns a company called Overtime Audio out of Lakeland, Florida. He did all the stereo work in it. Everything in it. We eliminated the head unit, so it's all Bluetooth, all runs right directly from your phone. And we got stainless steel stereo boxes in the roof.
We got Talladega Fiberglass T bars, front and rear, with 13 round lights in each of them. Talladega Fiberglass deck cover. But we went through the motor on it, we had PDI, resealed everything, put it back together, and painted it all up to match the truck. We're running the Big Boss turbo, Big Boss PDI intake. We have... We just went all through it, man.