Transcript
Commodity Transporters-leased owner-operator Erik Vaillette pulls a flatbed, loaded with Kubota equipment when we caught up with him at the A.J. Soza Memorial Truck Show in Merced, California, in June for the video up top.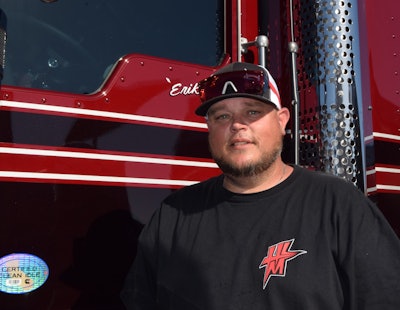 The owner-operator, also organizer of the Red Bluff, California, Frenchy's Truck Jamboree, built the 295-inch-wheelbase 2022 Kenworth in partnership with JDT out of Central Point, Oregon, the custom-equipment business of James Davis Trucking, Overdrive's first-ever Small Fleet Champ in 2020.
Named "Gwendolyn" after the owner's wife's grandmother, Vaillette's rig features an artist's rendering of a pair of red high heels behind the cab along with the name.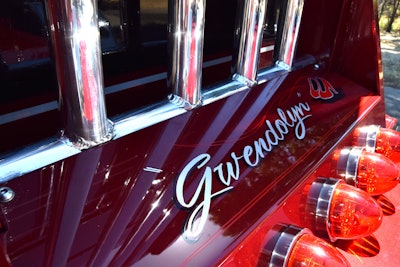 Two weeks before the pinstriping was set to be done, he'd decided on the rig's name in Gwendolyn's honor, the red high heels there given "that's what she wore until the day she died," Vaillette said.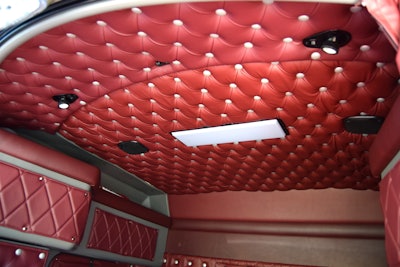 Via the video, take a run through all the rig's features and specs, from a bevy of 12ga Customs bright and painted parts to other additions with plenty of functional utility on the Wilson flatbed, too.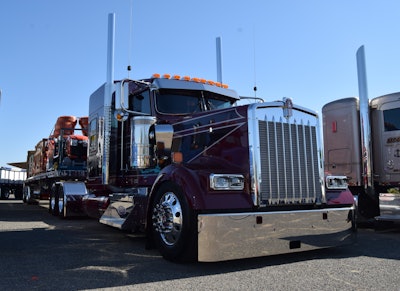 Contents of the video:
00:00 - How the Truck Was Designed
00:29 - Who Is Erik?
00:40 - What Kind of Truck Is It?
01:01 - Customizations
02:06 - Nighttime View
[Related: Father-son small-fleet flagship: A&D Equipment's 2020 Peterbil/Landoll 930]
Transcript
Erik Vaillette: I started this truck with my artist, for my shirt company. I actually drew this. We drew this truck on paper a year ago, and it was neat the day that I got to show up at his office and say, "Hey, remember that piece of paper you drew me?" And he's like, "Yeah." I said, "Look, it's in real life now." He was just astonished, because he's like, "Man, that was so cool. I got to draw it and design it and look at it now."
My name's Erik Vaillette. I am a business partner with Steve Wilbur and Hammer Lane Mafia and Commodity Transporters. I lease with Commodity Transporters, put on the Frenchy's Truck Jamboree in Red Bluff, California, every year. Basically we have a 2022 Kenworth W900L, 295-inch wheel base, complete custom-built with JDT Customs out of Oregon. So the truck was built side by side with James Davis and Ed Davis.
If you look under the hood, it says JDT Built. I had that pinstriped onto the frame, just for the level of what they do for me. It's a complete 12Ga truck, 12Ga visors, 12Ga mirror brackets, 12Ga panel extenders, 12Ga cowl kit. It started out as a 12Ga airbag kit, but we did a lot of cutting and mocking of our own, Fox shocks all the way around, complete three-piece deck plate custom-built by JDT all the way back. Custom-built Whitlog aluminum bar headache rack, Dynaflex stacks. It's pulling a Wilson, a completely custom-polished and custom-built Wilson trailer. The whole entire trailer polished inside and out, oversized extreme boxes, painted landing gear, powder-coated under-frame plate, powder-coated winches.
The Kenworth guy right now is Two Bees Customs out in Renton. So the cool part about Two Bees who did my interior is they're actually right there at the factory. So when you order your truck, they go over and custom do your interior before it's even delivered to the dealer. So I have a full legend red with metallic silver leather buttons all the way through the whole entire interior. The whole dash is all aftermarket chrome. Everything was purchased through the chrome shop that I use up in Washington, I-5 Chrome.