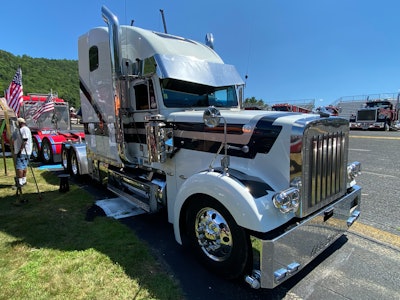 Alex Lockie for Overdrive
Owner-operator Kevin Carter's 2000 Freightliner Classic XL started life as a Swift truck, but when he got his hands on it, in 2004 it became "Olde School," a monument to his now 50 years on the road behind the wheel, and the people that schooled him on the way up.
"My dad had a construction company, I had real trucks to play with as a kid," he said. "I'm a heavy equipment operator, too." Carter was speaking at at the 5th Annual Gear Jammer Magazine Truck Show in Keene, New Hampshire, at the end of July. As far as the name goes, a few minutes talking to Carter made it seem pretty self-explanatory.
"I'm an old-school kinda guy," he said. "I believe in service, I believe in respect. You respect me, I respect you, even when the customer is wrong."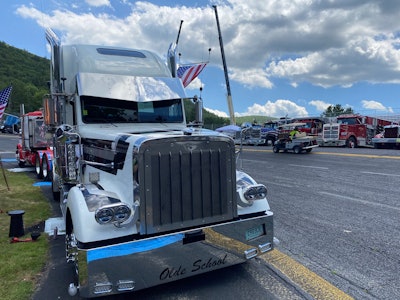 As far as the truck goes, Carter bought it with financing from Freightliner itself after Swift gave up the lease in 2004 with 485,000 miles on it.
Since then, "it's had an in-frame done on it at 975,000," and it's got a 500-hp Detroit 60 Series 12.7 liter in it, as well as a 13-speed manual transmission rather than the 9-speed it had when he bought it.
In the intervening years, he's put more than a million miles on the rig, running flatbed loads mostly up and down the East Coast.
Carter takes pride in his truck's history, as well as the ways he's transformed it since then. Mostly, he likes that it's not governed, and that he's free to drive it as he sees fit.
When he got the truck from Freightliner, "they took all the restrictions out of the computer. This truck is wide open," he said. "It's got 2.93 rears, so she's very shy on the hills, but after I come up over the hill, I'm coming for you."
Carter said "she's good for about 110, and people say Freightliners are known for shaking." Let's just say this one doesn't, he added, at any speed.
The truck will tach out at 2,300 rpm. He cruises easy at 70-75 mph at 1,400, which gets him about 6.5 mpg on average.
As far as the look of the rig goes, he's got plenty of pride and polish into that too. He's added a new hood from Jones Performance, and double-round headlights that people most often mistake for Peterbilt lights. Carter, though, knows they were inspired by old Freightliners. "Everyone thinks these are Peterbilt headlights." Yet "the Freightliners back in the 1970s came with double round headlights."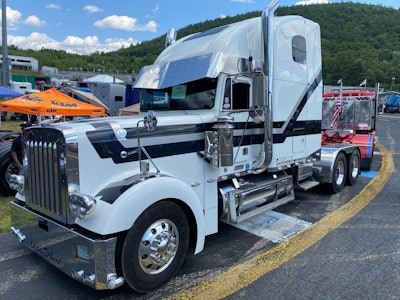 While Carter's business, Olde School Express, is based out of Ellenwood, Georgia, he's from Long Island, New York, and his knowledge of tricky Northeast trucking has been a major boon to his business.
"I get ridiculous money out of Georgia coming up here because the Southern boys don't like to come up here with the tolls and signs that say 'No Trucks' on the parkways," he said.
As testament to the pride he takes in hauling, Carter took me around to the frame rails and showed me something few among show truckers would be eager to point out. "That's road grime. You would have to power wash this truck for at least four hours to get all that out," he said with a smile. "This truck works."
[Related: 'Wild Child' 379 lives up to its name]