Transcript
Diesel Freak was started by Ryan LaLone in 2007 with the goal of helping truck owners improve their rigs' performance and fuel economy.
In addition to those bedrock business concerns, they've taken performance to the next level with this 2007 Kenworth W900, which with all of its modifications, can put down four-digit horsepower "without a problem," LaLone said. The truck uses that extraordinary horsepower in uphill drag racing, both loaded and bobtail, and it also competes in truck pulls.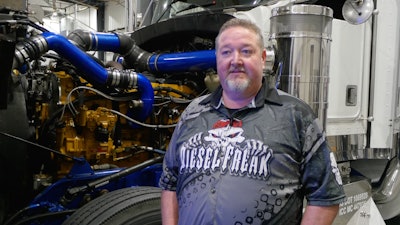 Outside of the engine, one of the truck's unique features is that it's configured to be able to do burnouts and donuts because of a brake lock switch LaLone installed for his front brakes.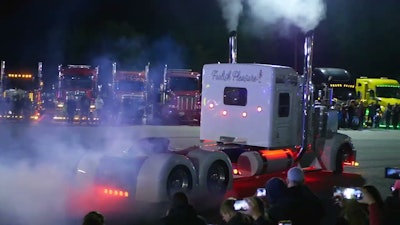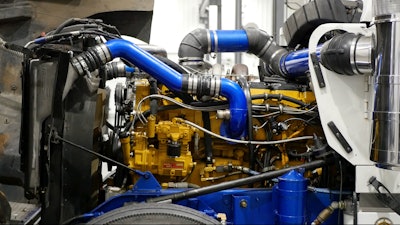 [Related: The 'Candy Cane' 2000 379 of Irby Hallman Trucking]
---
Catch plenty more views of the rig in the video up top. For custom-equipment features delivered to your email inbox, subscribe to Overdrive's weekly Custom Rigs newsletter via this link.
Transcript
Ryan LaLone: Hi, I'm Ryan LaLone from Diesel Freak. I started Diesel Freak in 2007, I'd like to get into performances and fuel economies and average diesel engine repairs.
I started Diesel Freak because there was certain things I wanted to be able to do that I wasn't able to. So I started manufacturing some of my own parts and components and pieces.
Got a 2007 Kenworth W900. It's got a C16 Caterpillar engine and we've done a lot of extensive work to it to be able to boost the horsepower and torque. We currently race A-Class uphill drag racing. We prefer the loaded, there are some bobtail races that we do do from time to time. We also do weight sled pulling here in the United States, some truck pulling.
So our fuel system is based on Caterpillar still. We run a Caterpillar ECM, but our injectors have had extensive work done to them. We run a lower compression piston. We've got twin turbochargers on it. So by doing those things, we're able to achieve four-digit horsepower without a problem.
Our engine does not run a head gasket like a normal Caterpillar engine would. We use a C-ring to seal our cylinders to the bottom of our cylinder head. That allows us to build a lot more pressure without having any failures. We run water-methanol mix. It gets injected into our intake back in here. We use a hydraulic pump for our fuel pump. So our fuel line is 7/8" in diameter, our fuel line is.
We also run our fuel backwards through the cylinder head. By running it backwards, we can run a lot larger volume of fuel through the head and our injectors are, they're 500% over stock. They flow so there's a lot more fuel there than normal.
Our Kenworth here, I've got a brake lock switch for my front brakes and I can lock in all my differentials in the back so I'm able to make a burnout, burn my tires, but I can also do donuts.
You'll see some videos of us flying around Instagram and YouTube and we're kind of famous for it. Not too many semi-trucks you can see that we'll do that.