Transcript
Eric Gibson, owner of Gibson Truck Lines out of Murray, Kentucky, showed this impressive pair of Western Stars at the 2023 Mid-America Trucking Show in Louisville, Kentucky.
The road tractor, or hauler truck, is a 2017 4900FA that was built to go along with the massive '88 4964 that's built exclusively for truck and tractor pulls. Gibson found the 4964 and bought the 4900FA to go along with it.
Gibson said the 4900FA already had some custom work done to it when he bought it, including some body drops that make it sit lower. Since buying the rig, he's added a custom bumper, headache rack, rear fenders and more.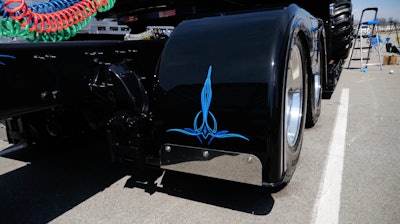 Gibson said the truck is mostly just a "normal road tractor" with "nothing really special about it." He has plans to do more custom work to it in the future, including a new paint job, a new motor and more.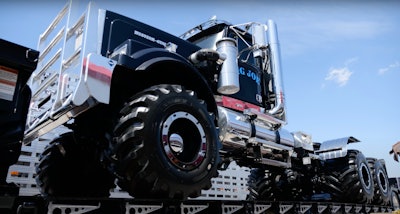 Gibson first found "Big Joe" around late 2019 or early 2020, but by then it had already been sold. He kept looking around for it to pop back up and, after about a year, relocated the rig with a farmer in Nebraska. Using it to pull a spreader, he'd blown the motor about three weeks in, and had it sitting in a shed when Gibson tracked it down.
He then bought the truck and brought it back to Kentucky, where he's been working on it ever since.
The truck appears to have been originally built by Tapscott Logging in Virginia or West Virginia years ago, Gibson said, and has changed ownership a number of times through the years.
From the frame up, the truck is a Western Star, but the running gear in the rig is from a military-grade, 10-ton 6x6 wrecker, making it a hybrid of sorts. It's powered by a Detroit 60 Series that was built by SS 60 Performance Diesel in Turbotville, Pennsylvania, rated at 1,300 horsepower with an estimated 2,600 ft.-lb. of torque. It's equipped with a 10-speed Allison automatic.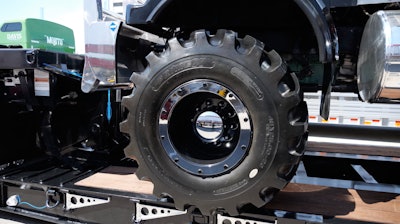 [Related: Custom-built 1979 International Transtar II of Iowa-based Andy Goettsch]
---
Catch plenty more views of the trucks in the video up top. For more videos and custom-equipment features delivered to your email inbox, subscribe to Overdrive's weekly Custom Rigs newsletter via this link.
Transcript
Eric Gibson: Well, I've always loved trucks and obviously this is the biggest truck show in the United States. We knew we were going to do this two years ago and we started putting all this together and finally made it.
My name's Eric Gibson. I own Gibson Truck Lines based in Murray, Kentucky. We're a refrigerated freight hauler, run mainly northwest and southeast. Have 25 trucks and this is our pulling truck. The road truck or the hauler truck, what people call it, is a 2017 Western Star 4900FA. It had some custom stuff done to it before we did to it to make it sit lower. A lot of people think it's a LowMax, but it's not. Yeah, it's just had some body drops put on it. Detroit DD13 motor, 13 speed transmission.
We've done a lot of custom stuff to it. Custom bumper, custom headache rack -- headache rack was built by Fabcor in New Brunswick, Canada. They built a headache rack for it and Big Joe both. We put fenders on it, did the paint work ourselves, got that all done, pinstriping. Normal road tractor, there's nothing really special about it other than just when we found that one, then we found the road tractor to go with it. Thought that'd be something cool to put together.
That is a truck pull, tractor pull. That's what it does. It was made for that kind of thing. We found it on the internet. I guess it was early part of 2020, maybe 2019, and somebody got to it and bought it before I got ahold of it, and it disappeared for probably almost a year or better, and I finally tracked it down in Nebraska. A farmer had bought it and were using it to pull a manure spreader with it. And I think it lasted about three weeks with him and it blew up a motor, so it was sitting in a shed and I got ahold of the guy and got it bought, got it brought home and been working on it ever since.
We've done some research and haven't found exactly for sure where it was built, but we're pretty sure it was a Tapscott Logging in Virginia or West Virginia. They're the ones that originally built it quite some time ago, and I think it's just changed hands several times till we got ahold of it. From the frame up is a Western Star 4900, but the running gear is a military grade wrecker, 10-ton 6x6 wrecker, so it's kind of been made a hybrid or morphed together to make what it is now. The motor is built by SS 60 Performance Diesel in Turbotville, Pennsylvania. We stripped it down, took the tires and all that and just basically sent the shell to them and they built the motor. It's Detroit Diesel 60 Series. It's rated at 1,300 horsepower. Really no way to test it. 2,600 foot-pounds of torque, estimated. 10-speed Allison automatic transmission.
They're flotation tires. A lot of times you'll see them on spreader trucks and off-road applications, logging, stuff like that. So they're definitely not highway tires. We put the bull guard on it, headache rack on it. We added the weights and all to the back. It had some on it before, we kind of redid all that, made it look a little bit better, but it carries 4,000 pounds just of weight on the back of it. Obviously, the one on the trailer, we call that one Big Joe, and we hadn't really come up with a name for this one. We're kind of thinking Low Joe maybe, but we haven't decided on that yet.