Transcript
Andy Goettsch, owner of Galva, Iowa-based Goettsch Dispatch, showed this immaculate custom 1979 International Transtar II at the 2023 Mid-America Trucking Show in Louisville, Kentucky, where it won first place in the Antique Custom -- Bobtail class.
The 19-truck fleet works in the agriculture industry, hauling livestock, grain, feed ingredients and more.
Goettsch said the classic International has always been a dream of his to own, as his dad's first new truck back in the day was the same series of truck. "The truck was something I grew up in as a kid," he said.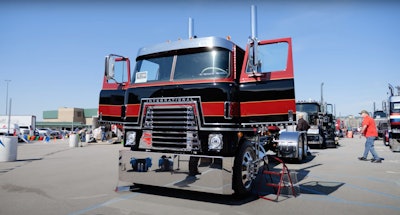 Just about every part on the truck was touched in some form or fashion during the rebuild, ranging from the engine through the interior. The truck is powered by a 350-hp Cummins Big Cam with a 13-speed.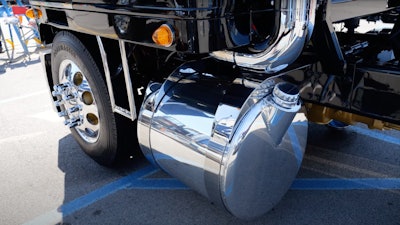 Another part of the build was shortening the wheelbase to 265 inches.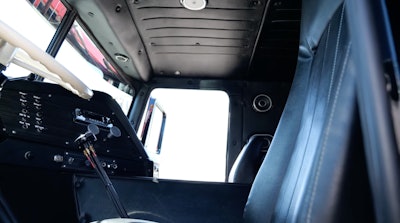 ---
Catch plenty more views of the rig in the video up top. For more videos and custom-equipment features delivered to your email inbox, subscribe to Overdrive's weekly Custom Rigs newsletter via this link.
Transcript
Andy Goettsch: It was always a dream of mine to do something like this, and this is a truck that I grew up in as a kid and it's just something I've always wanted to do. I'm Andy Goettsch, born and raised Galva, Iowa. Own a trucking business there with about 50 employees. We do all ag-related, livestock, grain, feed ingredients. Our name is Goettsch Dispatch.
This is a 1979 International Transtar. We started from the ground up, completely redone it. Everything was done by some guys in Hull, Iowa, VDZ Customs, and the fenders are Hogebuilt on the back. The fuel tanks are custom. They completely built them. There's not another set of fuel tanks like it. Yeah, the wheels we had sent off to a guy and they cut the holes bigger in them. I think it looks good with the big holes.
It's got a 350 Cummins, a Big Cam, with a 13-speed. It's a 2014 suspension. We actually shortened it. When we bought it, it was actually longer, but we kind of shortened it up a little bit to where it was. It's at a 265 wheelbase is where it's at. The interior's completely been redone in it. It was down to a complete shell. Every nut and bolt was completely gone. It's completely started over from scratch.