Transcript
It may not be an old-school trucker's cup of tea, but this 2023 Peterbilt 389 will certainly grab anybody's attention.
Off-road hill climb racer Timmie Cameron worked with the Semi Casual shop at Fitzgerald Peterbilt to have this unique Pete built to haul equipment around the Southeast for his TC Racing team. Cameron showed the truck at the 2023 Mid-America Trucking Show in Louisville, Kentucky.
Coupled with a custom trailer from 5150 Race Trailers that was being built when Cameron showed the truck at MATS, Cameron will be hauling three different race vehicles -- a 1,500-2,000-horsepower hill climb "bouncer," a hill climb UTV, and a late-model dirt racecar. Cameron said he races about 45 times a year.
Going into the build, he knew just that he wanted a long-hood Pete with a small sleeper to keep the wheelbase as short as possible -- better to get in and out of sometimes-small off-road parks. Cameron worked with Semi Casual to do something a little different and match the trailer. His previous truck had been an all-black bear to keep clean going to off-road parks nearly every week. He looked through paint colors and settled on North Sea Gray, with a blackout package, for this one.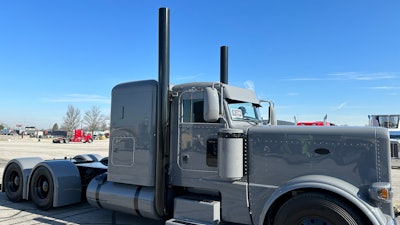 Under the hood, the rig is powered by a 605-hp Cummins with an Eaton 18-speed automated manual. That previous truck of his had a manual transmission, but he wanted to go with the AMT this time around for convenience, allowing crew members who may not have experience driving a manual to hop in and drive when needed.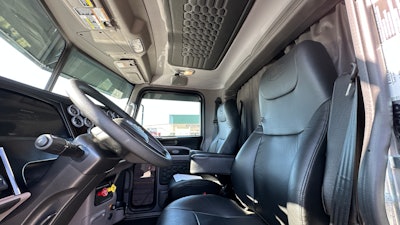 Now that the build process is complete, it "almost breaks my heart to even know the truck's even going to be off-road, but that's what it was built for," he said.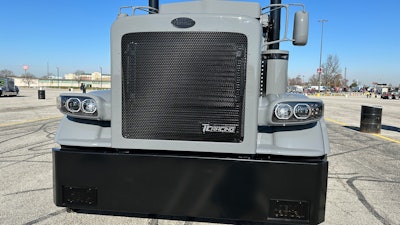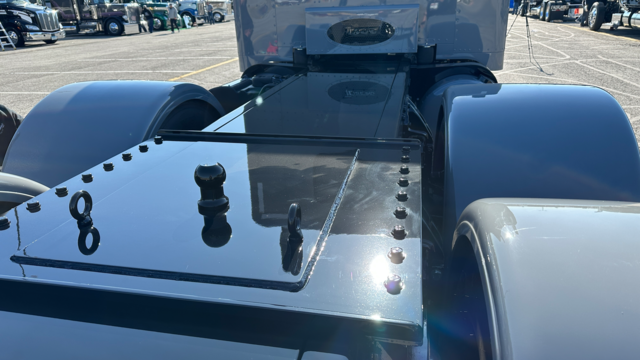 One of the most unique features of the truck is that it doesn't have a fifth wheel. Instead, it features a 3-inch gooseneck ball hitch.
---
Catch plenty more views of the rig in the video up top. For more videos and custom-equipment features delivered to your email inbox, subscribe to Overdrive's weekly Custom Rigs newsletter via this link.
Transcript
Timmie Cameron: My name's Timmie Cameron. I do a bunch of off-road hill climb racing. I also do some dirt late model racing also. It's a Peterbilt 389, '23 model. I got with the guys at Semi Casual. I wanted to do something different to match my trailer, which we went with the North Sea Gray, the blackout package. And they knocked it out of the park.
I knew I wanted a long flat-nose Pete flattop, so I took that. I gave them a color scheme, and we bounced back ideas. And I wanted to do a shorter sleep remodel. I had an older truck that had a big 12-foot sleeper on it, and I want to change it up, do something different this time, shorten the wheel base up a little bit for some of the off-road parks we go to. The turning radius needs to be tighter to get the 53-foot trailer in, and went with a dump truck front tire, something wider, giving more of a beefier stance. And of course, all the black stuff's powder coated for ruggedness. And hopefully it'll hold up to road abuse.
And all the off-road parks we go to are dirt, and sometimes mud. We went with an air flip-up bumper, because we're always getting stuck, and it almost breaks my heart to even know the truck's even going to be off-road. But that's what it was built for.
Of course, custom-built T-bar in the back, the deck plate. Of course this truck is gooseneck. That was a big shocker to a lot of people. I wanted to get away from the fifth wheel. Some of the parks we go to, the entrance is real bad. I just didn't want to put the truck through side load and stress the frame, and whatever. So, went with a three-inch gooseneck ball, which I never knew existed. I thought it was always two and five-sixteenths, but I was able to find that, and went with it. And of course, full custom laser-cut grill. And we got my logo cut in it. Of course, aftermarket headlights.
We added these little fenders on the side, right here, to keep the outer groove of the tire from slinging rocks and stuff and chip something up and down the side of the truck. Eight-inch stacks. They chopped the breathers.
A little bit of stitch work on the interior, painted the dash to match, painted the gauge bezels to match the paint color. But other than that, it's pretty much just sweet and simple, kind of straight to the point. And really never was built to be what I would consider like a show truck. But hey, we figured we'd bring it up here and at least let everyone see. Because it blew up on the internet. Everyone loved it. And of course, some hated it, because there wasn't no chrome on it. That's just part of it. But heck yeah, it's been a cool project. And I'm thankful to them for letting me be a part of it.