Transcript
Vermont-based owner-operator Philip Rindelhardt is the owner of Darkmoon Transport and leases this 2000 Kenworth W900L to GMH Transportation out of Westminster, Vermont.
Rindelhardt showed the truck at the 2023 Mid-America Trucking Show in Louisville, Kentucky, where it earned a third-place award in the Working Bobtail – Lights category.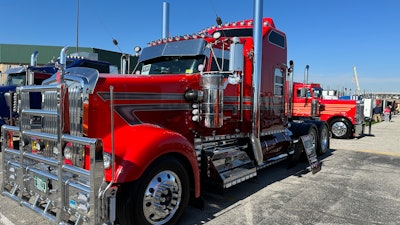 The truck is the only one Rindelhardt has owned himself, as he was a company driver from the time he started trucking in 2011 until picking up this unit in 2018. He built it as a memorial to his mother, Mary, who passed about a year before he bought the rig. The truck is used to pull a food-grade dry van up and down the East Coast.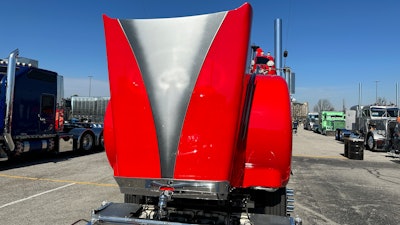 The KW "looked OK for what it was" when he bought it, but he "wanted to do something special and something kind of cool" with it. It sports a 72-inch sleeper and Minimizer full fenders over the drives that replaced Hogebuilt quarter fenders. "Being up in Vermont, dirt roads and stuff, I needed a little bit more protection on the back of the sleeper."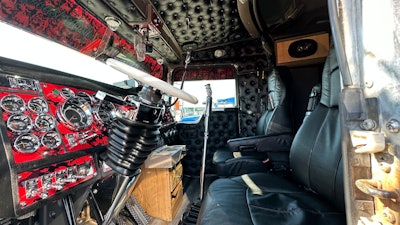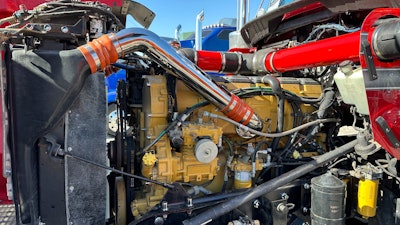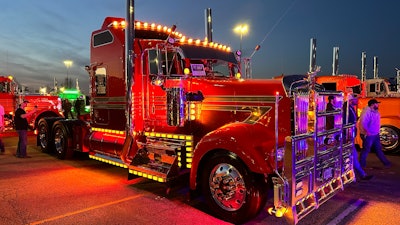 ---
Catch plenty more views of the rig in the video up top. For more videos and custom-equipment features delivered to your email inbox, subscribe to Overdrive's weekly Custom Rigs newsletter via this link.
Transcript
Philip Rindelhardt: My name is Philip Rindelhardt. Name of my business is Darkmoon Transport out of Lyndonville, Vermont.
I bought this truck out of Oklahoma back in August of 2018. It looked completely different, and slowly been plugging away at it. It's kind of a memorial thing for my mom. She passed away about a year before I bought the truck. It's the first one I've owned. Before this, I was a company driver. I started driving in 2011.
I put a new bumper on. I think this is my second bumper, the other one was a 20-inch drop. I went to the moose bumper. The first load that I did with this after the body shop, I was running across New York about 20 after four in the morning and hit a deer at 65 miles an hour, so I was pretty glad I had this bumper on.
I've done the grille. It's a Jones hood, A-model style. It's got a 2WS Cat, 18-speed. I've done the RLK visor. Got over 200 lights on this. Originally, the whole truck was maroon and the fenders were dark gray. It looked OK for what it was, but I figured if I'm going to do the whole truck, I might as well do something special and something kind of cool. But on the A-model style of the hood, the top of it flares out, and I did it to match the stripes on the side of the truck.
Spare Time Fab shop, they made all brand-new button tuck for me. I have a wooden console. It took me three years to find that. Had a new top made for it. In the sleeper, there was a cabinet place back in Vermont that I used, and they made two brand-new dresser drawers out of curly maple. They did a nightstand out of curly maple, boarded it in mahogany. I have two upper compartments that were open and they used curly maple. Made two doors for that. I put two six-by-nine speakers, one in each door.
Those are minimizer fenders. Originally, it just came with quarter fenders, Hogebuilt. I didn't really care for the quarter fenders. Being up in Vermont, dirt roads and stuff, I needed a little more protection on the back of the sleeper so I went with full wrap fenders. I like them. They work good. I have a generator on the other side, it's an APU, and then I have it plugged into my sleeper. And I have a two outlet, like a regular house outlet, and that's how I get my power inside.