Transcript
Shoshone, Idaho-based Jake Bast pulls a flatbed leased to RAM Transportation, out of Brownsville, Oregon, with this 2001 Peterbilt 379, built to his own style during his eight-plus years of ownership. Bast showed the truck at the 2023 Shell Rotella SuperRigs working truck show, where it placed second in the Tractor-Trailer Division.
Bast typically hauls from coast to coast -- usually northern Oregon or southern Washington to the Southeast, New England or the Midwest -- with machinery, equipment, steel or other commodities atop his 2019 East flatbed. Running cross-country minimizes the time he spends having to load and tarp freight, he said.
Before Bast bought the 379, he said he would usually buy a truck and keep it for a year or two before getting bored with it and selling it for something else. That changed when his father told him before he passed away that he wanted to see Bast finish a truck one time. The result of that conversation you can find plenty views of in the video featured up top.
The rig was a "clean slate," still pretty much all original, when he bought it, Bast said. "I'm the one who pretty much cut it up and changed everything on a perfectly good factory truck." With some help from friends, he had the frame stretched to 301 inches and started to blend two of his favorite stylings for the rig's theme -- hot rod cars and old-school West Coast trucks. Bast fell in love with the scene and vibe growing up with his truck driver father in the 1980s, He said he took "the things those guys were doing that I was fortunate enough to grow up around and see, and the stuff that influenced me that I could carry on in myself and my own interpretation of it with a hot rod look, California truck look, kind of blend the two."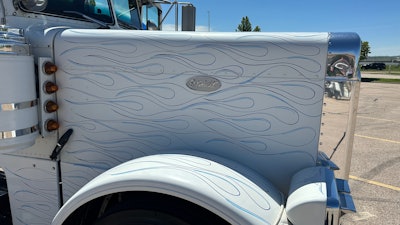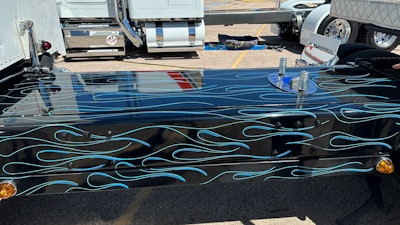 Much of the body work was done by Brent McGrath with Brent's Custom Trucks in White City, Oregon. The rig was originally white with purple fenders, and McGrath painted the fenders white to match the body and did some other work around the truck.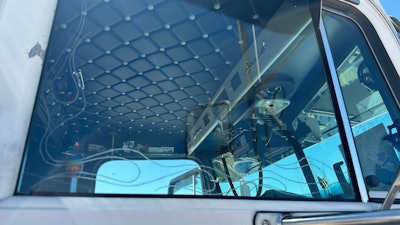 Under the hood, the truck sports a 1999-model 3406E Cat 6NZ. When Bast bought the truck, it had a brand-new 18-speed transmission in it, but "I totally bumped my head and decided I wanted to have two transmissions in one truck," he said. "So we pulled a good 18-speed out and put a homemade five-speed and four-speed in it. It's probably the funnest thing I ever did. They're slow, they're stinky, they're smelly, they leak, they make a lot of noise. But it puts the biggest smile on my face getting to shift two sticks every day."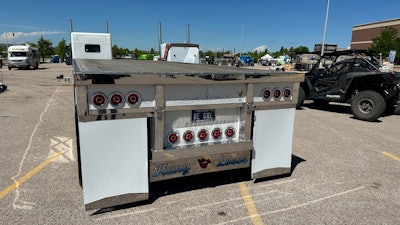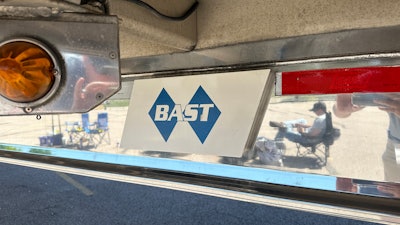 He's also fully customized the interior since buying the truck. It originally had Peterbilt's blue American Class interior, which he said was a selling point for him when he bought it. But the previous owner was a heavy smoker, and despite numerous attempts, Bast never could get the smell out. He gutted the interior and started over.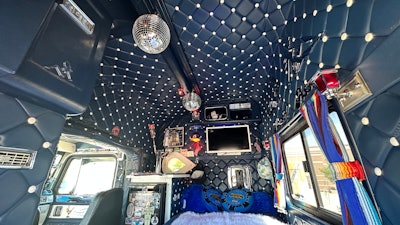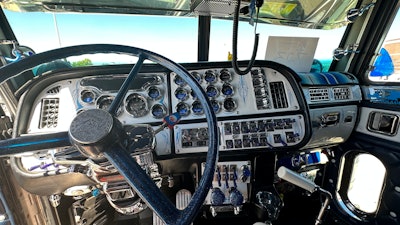 [Related: 'Not Too Blue 2': Wisconsin hauler's color-changing Kenworth]
---
Catch plenty more views of the truck in the video up top. For more videos and custom-equipment features delivered to your email inbox, subscribe to Overdrive's weekly Custom Rigs newsletter via this link.
Transcript
Jake Bast: So my name's Jake Bast, live in Shoshone, Idaho, leased to Ram Transportation in Brownsville, Oregon. The West's best flatbed outfit, if you ask me. So it's a 2001 379 flat cab standup. It also comes with an E-model Cat 6NZ, and had a perfectly good, brand-new 18-speed in it. And I totally bumped my head and decided I wanted to have two transmissions in one truck. So we pulled a good 18-speed out and put a homemade five-speed and four-speed in it. It's probably the funnest thing I ever did.
They're slow, they're stinky, they're smelly, they leak, they make a lot of noise. But it puts the biggest smile on my face getting to shift two sticks every day. Just kind of my favorite look of a truck, favorite style. And usually I'd kept truck about a year or two and I would end up getting bored, kind of get in a direction with it and sell it. And before my dad died, he kind of hit me pretty hard with, he wanted to see me finish one one time and I'd never done it.
So this was kind of it. I bought this truck, found it in Oregon, and just kind of fell in love with it. I'd seen it running around years ago, up and down I-5. And it was a Van Dyke [truck] when Rocky had it. This just was a clean slate, all original inside, original everything. Everything was factory set up. I'm the one that pretty much cut it up and changed everything. A perfectly good factory truck.
But so I had a lot of help from a lot of friends and stretched it, took it to 301 [inches], and I just wanted to blend my hot rod theme that I've always been into with a classic West Coast look that I grew up with. And being able to keep a truck long enough, I'm learning a lot as I get older, the longer you stick with something, the better things go in life.
So trying to blend what I grew up with riding around with my dad in the '80s was like the highlight time of cool trucks on the West Coast. And it was a whole scene and a vibe, and c
And the one thing my dad would always argue over was paint. I love rough paint and he's all about new paint. And I said, "Well, if they still built these brand new, I'd go buy a brand new one. But guess what? They don't." And I'm too lazy to take care of a nice paint job. So this is like, I love a nice, I hate the word patina, but it is what it is when things kind of blend together and they're fading together. But yet you keep your aluminum polished, you take care of your stainless, you keep the points polished and sharp around the edges. And that's just my happy place with a truck.
And the flames were a big move. Jack Miller out in Nevada, a good friend of mine is the only one that's really worked on this truck. And it's loud, it's a lot, but so am I. So it works out great for the two of us, with me and this old truck.
It was white when I bought it, but it had purple fenders and I do not paint. And God bless Brent McGrath at Brent's Custom Trucks in Oregon. He took my old truck in and worked his magic. Gosh, it's been like I say eight years ago now. And his work is phenomenal. I can weld, I can wire, do everything else, but I am not a body guy. And Brent and Jackie took me in and really helped me get through some of this stuff and trying to figure things out.
But otherwise, it's all original paint, it's all original spray paint up there that I keep it going every year. So when you own an old truck, don't be afraid of spray paint or a drill. It's okay. So the frame, Stuart Loewen [Nor-Cal Custom Trucks], I spray painted all my frames forever and I finally was able to feel comfortable enough with my truck being solid to go ahead and spend some money on some fun stuff and get the frame done at Stuart there in California. And then Jack, that's where the flames on the outside finally, well, I had it kind of done on the top of here and on the teardrop windows, but it was like time to let the cat out of the cage and go to work.
And I really wanted to just throw it out here and see. I had that vision in my head for years and never had a truck that I thought could pull it off. And I'm not saying this one could, but in my mind I felt like it. So Jack did the flames back there on the frame, they go all the way to the end and just did an amazing job. That guy just sits there freehand, just a ton of talent, that guy.
So the trailer's a 2019 East, it's the first new thing I've ever owned in my life. I ordered it from the factory and went and got it. And so I'm pretty proud of that trailer. I've never owned a new pickup or nothing, but I've had a new flatbed. So that was kind of a fun project. Again, there was things that East would do and East wouldn't do, and so not a big deal. So it was kind of one of those, I had a vision, I knew where I wanted to go with the trailer. And so we got it home. I took it to Brent's and we tore it apart at his shop, and we just kind of took the cutting saw to it and changed a bunch of stuff around and got the lights I wanted.
I had this whole vision of a plan. And with Brent's help and the use of his shop, we was able to pull that off. Quarter fenders all the way around. Front filler panel, diamonds cut out that light up, and my water tank underneath. You get down in the South and summertime, and since COVID, boy, a lot of people, they don't want you to use the bathroom or anything. And Norm Butler, kind of one of my heroes runs up and down the West Coast. He's got this same tank on a dry van. And his motto is, "If you got time to lean, you got time to clean."
And so whether that's me or the truck, something's getting cleaned out of that water tank when I'm tarping down in Georgia or something during the week. So the inside, one of the selling points on this truck was it had blue American Class interior and I was just like in love with blue American Class. And the problem was, the guy I bought it from was just a massive smoker. And we tried, and tried, and tried and could not get rid of that smell. So we ended up just gutting the whole thing and starting over. But I didn't want to fall into that same old routine of the same stuff. So I found a hot rod shop in Oregon that had really not done a lot of truck stuff, and it wasn't as common to see Kenworth upholstery at a Peterbilt. So I told him, make sure that this, we're doing like a hot rod diamond button tuck and not nice puffy Kenworth [button tuck], which I love the looks of that stuff. But Kenworth Peterbilt, I mean, I have a Freightliner steering wheel, so who am I to judge in there? But here it is.
So then that led into doing the sleeper, pulling the closet out of the sleeper, putting the teardrop windows in, I could see out. And putting a fridge and a table top, making it more open. I'm gone a fair amount. I'm on the road quite a bit and it cuts down on my hotel bills some, and having a little more room back there and a little more amenities away from home without having to have a huge sleeper, just kind of making work what I had.
And it was a double bunk bed sleeper. And after about the third night of rolling over and slamming my knee in that top bunk, I got a cordless drill out and it's in a dumpster at a truck stop somewhere in Arizona, and figured out how easy it was to make it back window and everything and make it look like it never had the bed in there.
So I kind of picked up a hobby through a New Year's Eve party with my best friend and his best friend that passed away, Justin Larson, used to do some glass etching, and we were going through Larson's old drawings and pieces he'd done. And kind of one of those things, used to see it been done all the time down in LA and I thought, "Man, it's just something I want to dabble with." So I kind of started doing that, etching some windows, doing some glass, the back of my fuel tanks. Basically using my poor truck as a blank canvas before I go crashing on anybody else's stuff. And it's been fun. It gets me out of the truck in the evenings and gives me something to do and I really enjoy it.