Transcript
Wisconsin-based Rob Harris, owner of Extreme Transportation Specialized, showed his 2022 Kenworth W900L at the 2023 Shell Rotella SuperRigs working truck show in Gillette, Wyoming, where it won first place in the Working Truck -- Limited Mileage class.
As of SuperRigs in June, Harris' small fleet boasted 17 trucks doing mostly oversize hauling on 53-foot curtainside trailers, as well as stretch double-drops and other open deck trailers. Harris' father founded the company, and Rob eventually took over. Helping him run the business today is his son, Robbie, who was featured about five years ago in Overdrive with his 2004 Kenworth W900L painted as an homage to the 1970s "Movin' On" TV show.
Rob Harris himself only hauls part-time now after a recent shoulder replacement. He's the primary driver on this '22 W9, nonetheless, and in his two years of ownership has put just 27,000 miles on it.
As with his prior '94 model KW, the fenders on the 2022 and dash panels inside are painted with color-shifting PPG Harlequin paint that, depending on the light, shifts between blue, purple and gold. The original idea for the color-shifting paint came from watching NASCAR in the 1990s and seeing Jeff Gordon's No. 24 DuPont paint schemes, Harris noted.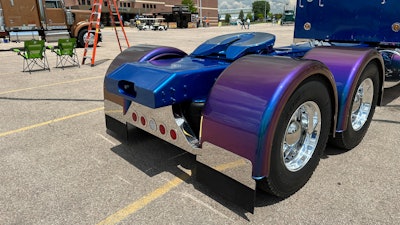 Harris also noted that the fenders are independently mounted with stainless steel brackets that don't show from the outside, which were custom made for the truck. Other custom adds include Dynaflex stacks and Lifetime Nut Covers steps (all stainless steel), glass lights underneath the truck, a chrome package on the 565-hp Cummins X15 and more.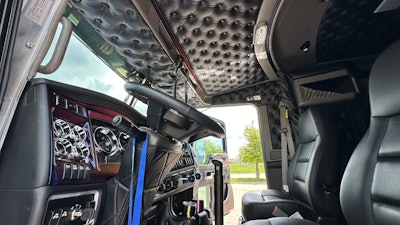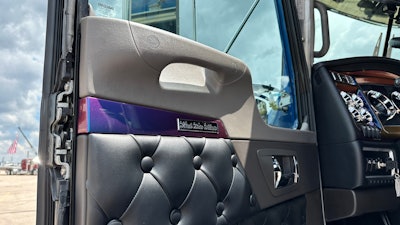 Harris had ordered a 100th-anniversary W900, which he was set to pick up shortly after SuperRigs -- No. 234 of 900 being made this year.
[Related: 'A real truck driver's truck': The first Kenworth W900L 100th-anniversary Limited Edition]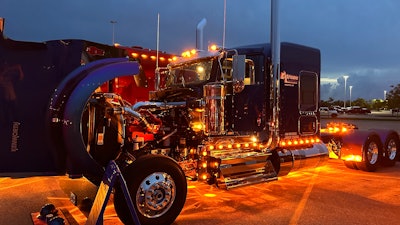 ---
Catch plenty more views of the rig in the video up top. For more videos and custom-equipment features delivered to your email inbox, subscribe to Overdrive's weekly Custom Rigs newsletter via this link.
Transcript
Rob Harris: I am Rob Harris. I'm with Extreme Transportation Specialized from Peshtigo, Wisconsin.
This is a 2022 W900L Kenworth. We put the PPG Harlequin paint on the fenders. We had a lot of, specially stainless steel work done on the back, from SBX, which was up by our home. Then we've got the Dynaflex stacks and the steps on all it, but stainless. We've got all glass lights underneath it. We got the chrome package on the motor. We've got a 565 X15 in it with the 18-speed transmission, 3.36 rears.
We had a show truck back in '94 and it was the same color and the same PPG Harlequin paint on it, so we just replicated the one we used to show years ago. "Not Too Blue," this one's "Not Too Blue 2."
Back in the day, everybody had something different, so we wanted something different than... No. 24 there, Jeff Gordon had the DuPont on his race cars, so we had seen that, kind of replicated that paint and went off of that.
We got the Seattle package throughout the whole interior. We have accents of the PPG on the dash panels and we took out the Kenworth symbol and put Not Too Blue on the little symbols. We have the whole Seattle package inside.