Transcript
North Carolina-based Marlin Coblentz, owner of Precision Transport & Moving (PTM), delivers storage buildings with this unique 1986 Peterbilt 359. Instead of a fifth-wheel behind the cab, the truck features a flatbed over the single drive axle to fit his operation.
When he bought it in October 2022, Coblentz said, it'd been sitting in a barn out in Oregon for eight years, and a friend of his in Nevada had just bought it with the intention of fixing it up to resell.
"The guy that had it, my buddy in Nevada knew about it," Coblentz said. "I told him I was looking for a single-axle and to keep his eyes open, and he said he had just bought this one and was going to fix it up and resell it. He sent me some pictures of it, and I was like, 'Yeah, I want that truck.'"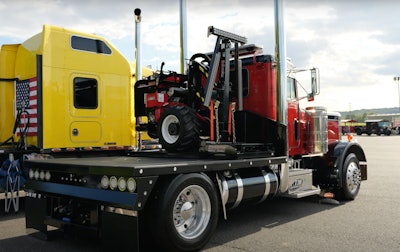 The truck, since it had been stored in a barn, was in pretty good shape when Coblentz came across it. He said the frame was in "mint condition," and said the only exterior work the truck needed was fresh paint atop the hood and cab.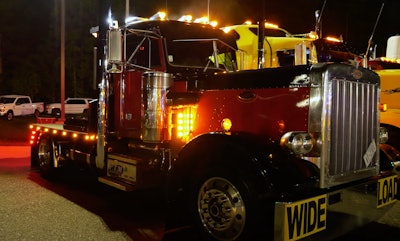 The inside of the rig is mostly factory, with the original dash, carpet and more.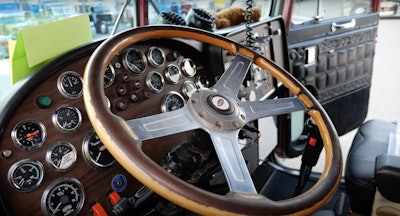 Under the hood, the truck boasts a 3406B Cat with a 13-speed.
[Related: 'Period correct' 1986 Peterbilt 359 a part of the family after near-total restoration]
---
Catch plenty more views of the truck in the video up top. For more videos and custom-equipment features delivered to your email inbox, subscribe to Overdrive's weekly Custom Rigs newsletter via this link.
Transcript
Marlin Coblentz: Yeah, you don't see very many semis with a flatbed on it. It catches a lot of people's eyes going on the road. They see a flatbed on the back of a semi, they're bringing their necks around looking. Plus, it's 37 years old and a clean look yet, so it's kind of old school style.
My name is Marlin Coblentz. I work for myself, P.T.M Transport. I deliver storage buildings is what I do. So, that's the reason why I have the flatbed on the back and my little mule on the back as well to move storage buildings around. So yeah, I really enjoy what I do.
It's an '86 Pete It has a 13-speed in it. I believe it's a 3.73 gear ratio. I want to actually change it to probably a 3.08, somewhere around there. It's got a 3406B model Cat in it. Guy I got it from, I told him to put Jakes on it. It didn't have any Jakes, so he added Jakes to it and that's a big plus, a big plus, especially pulling a big load. It does the job, what I need to do. It sounds good, pulls real good. I have a 450 as well that I use and definitely I like this better than the 450, especially on the road. It does really good.
The truck's been sitting actually in a guy's old barn out in Oregon for close to eight years. So it was basically no rust. The frame is in mint condition. You can pretty much wash the frame yet, so that's good. We didn't do a whole lot to the exterior besides we repainted the top of the hood and top of the cab on it. It was peeling off pretty good. So we repainted that and went with a black to kind of match the bed in the back and the fender and everything.
The guy that I bought it from, he actually customized the whole bed for me like I wanted it. I pull a bumper hitch trailer with it. So he has a bumper hook-up and a pintle hook and a gooseneck. So I got my three options that I have. And the bed is removable. Just take eight bolts out and you can hook a fifth-wheel back on it. I put the strobe light on top. He made my own bracket for that, customized that little bit.
The interior has a Corvette dash in it, with the round dash. The interior is totally factory. Nothing's been changed in it or anything. Original carpet and everything in it yet. Pretty clean for an '86, which is pushing around 37 years old.