Transcript
Higginsville, Missouri-based owner-operator Chris Homfeld showed his 2000 Peterbilt 379 at the 2023 Guilty By Association Truck Show at 4 State Trucks in Joplin, Missouri.
Homfeld, 52 at the time of GBATS in late September, said he has been in trucking his whole life, growing up with his dad as a trucker before jumping into the business himself when he was old enough. He became an owner-operator around 23 or 24 years old, he said, buying his first truck. Homfeld's Classic Trucking LLC primarily hauls reefer freight around the Midwest today, but in the past he said he's done just about everything other than tankers and end dumps.
"I've been an owner-operator ever since I really started," he said. "But I bought my first truck when I was 23, 24, so been there all the time. It's been a long process. A lot of ups, a lot of downs. I've seen everything."
When he's not running regionally, Homfeld occasionally runs to Florida doing hurricane relief work.
He bought this 379, nicknamed "Baby Cakes" by his sister-in-law, around 18 years ago and has remodeled it twice through the years. He said when he bought the truck, the goal was to make it into a show truck, and now with 2.5 million miles on the unit, that's what he's done with it.
The truck's stand-out color scheme is what Homfeld called an "orchid color with a lot of metal flake," which is well-liked in his family, he said. Despite naysayers telling him he wouldn't like it, he said he loves it, and "a lot of people do, too."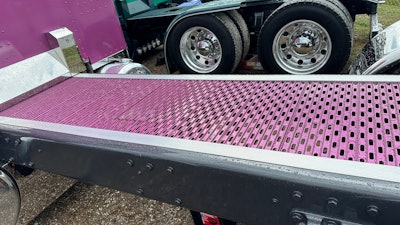 It's powered by a Signature 600 Cummins with an 18-speed and 3.55 rears.
While the rig is still a work in progress, Homfeld has changed just about everything on it, including headlights, mirrors, grille, visor and much more.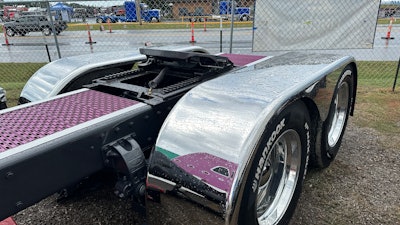 [Related: Specialized flatbed fleet K&D Transport's 'big daddy' 336-inch flagship]
---
Catch plenty more views of the truck in the video up top. For more videos and custom-equipment features delivered to your email inbox, subscribe to Overdrive's weekly Custom Rigs newsletter via this link.
Transcript
Chris Homfeld: My name is Chris Homfeld, Classic Trucking LLC. I've been doing this for... See, I'm 52. I've been in it all my life. I grew up in the trucks and so I've been doing it for 20 some years, 30 years at least. It's just been a family tradition basically. But I bought my first truck when I was 23, 24, so been there all the time.
This is a 2000 [Peterbilt 379]. I bought it about 18 years ago. I've had it all that time. It's nicknamed "Baby Cakes." My sister-in-law gave [the name] to me, says it's the love of my life. We've done a lot with it. Signature Series 600 Cummins, 18-speed, 3.55s. It's been remodeled once. This is a second remodel, just got out of the shop, called an orchid color with a lot of metal flake. It'll change colors throughout the day. Put new frame rails. She's totally... New skins, everything.
My wife says it's the love of my life. So it's still a little bit of work in progress. 295 wheel base. So my dad, really first time this paint come out on the truck when we first painted it, it's been stuck in with him and my wife. So it's been a big thing. Just loved the truck. It's been part of my life. When we bought it, that was the ultimate thing, it's going be our show truck. So we just went basic. I took all the lights off of it, just basic way, going back to regular style lighting, incandescent lighting, kind of simple, kind of clean. It was just... A lot of people say, oh, you ain't going to like it. Yeah, I love it. A lot of people do too, and it's just been the ideal.
We put the different headlights on it for big LEDs. New grille, just about all the stainless on it, it's all been changed. Visor, all the lights, just everything has been changed on this truck. We put the newer style mirrors on this truck. It used to have the door mirrors, put the 389 mirrors on it, put a different floorboard in it, did the total floor, the steps, and plus the length on it.
Originally it was a deeper purple or somewhere between purple and this. It's when the first shop painted it, it didn't come out. My wife didn't like it, my dad did, but then they both... We all fell in love with the colors after having it. So we just stuck with it. Stay with the basics. Yeah, it's flashy, but kind of the way it goes.