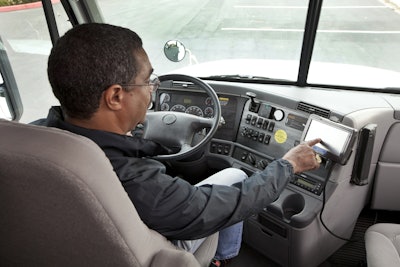 More and more fleets are using electronic logging devices in their trucks, say results from a survey from trucking acquisition firm Transport Capital Partners.
In February 2013, about 35 percent of fleet surveyed said they use electronic logs or electronic onboard recorders in all of their trucks, up from 25 percent from last May.
Moreover nearly 70 percent of fleets surveyed said they were utilizing or testing electronic logs in some way. The data, however, points toward larger fleets implementing at a much faster rate than smaller fleets.
Of the small carriers surveyed, 71 percent said they are not using them at all, while 43 percent of large carriers in the survey said they have fully implemented EOBRs into all of their trucks.
Moreover, the survey said that fleets — due to implementation of the Federal Motor Carrier Safety Administration's Compliance, Safety, Accountability program — are becoming more stringent about driver standards, starting with the hiring process but moving to already employed drivers, too. Nearly 50 percent said they have changed hiring standards as a direct response to CSA regulations while trying to weed out underperforming drivers.