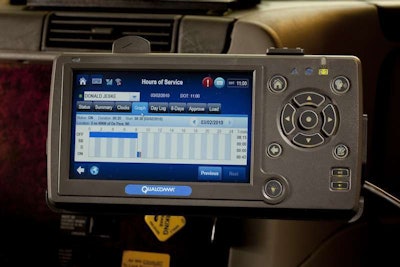 UPDATE: The Electronic Logging Device mandate cleared the White Houses's Office of Management and Budget March 11, contrary to what the DOT reported in its monthly rulemakings update. Click here to see an updated story on the progress of the ELD mandate, which likely is now slated for publication within the next few weeks.
A proposed rule mandating Electronic Logging Devices (aka Electronic Onboard Recorders) is now projected to be published April 9, according to a monthly report from the Department of Transportation, who has been pushing back the projected publication date for the rule since mid-November.
The mandate will require all drivers now subject to keeping records of duty status to use a logging device. The Federal Motor Carrier Safety Administration submitted the rule to the White House's Office of Management and Budget Aug. 7, with a projected publication date of Nov. 18.
However, in each of the last five months, the DOT's updated projected publication date has come and gone, and the rule still hasn't cleared OMB.
The DOT's latest report, issued March 11, projects the rule to clear OMB March 28. Following the projected April 9 publication of the Supplemental Notice of Proposed Rulemaking, the proposal would allow for 60 days of public comment, ending June 9.
The agency then would take any comments into consideration before publishing a final rule.
The DOT also still projects its driver coercion rule to be published April 23, The rule would create a requirement that the agency "consider whether coercion of drivers" by shippers, receivers, carriers or brokers "is a concern when developing a rule." It too would have a 60-day comment period ending June 25.
FMCSA's Carrier Safety Fitness Determination rule proposal is, per the report, also set to still be published Aug. 4. The rule would change the agency's data gathering process some in regards to how it calculates a carrier's Safety Fitness Determination score. After the rule's passage, the agency will use data from roadside inspections, crashes, investigations and violation history, nearly an identical data set used in calculating a Safety Measurement Scores in the agency's Compliance, Safety, Accountability program.