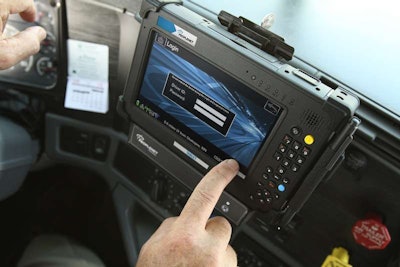 The long-expected re-release of the DOT rule mandating the use of Electronic Logging Devices (also known as Electronic Onboard Recorders) appears poised to once again miss an expected date of publication.
The Department of Transportation said in its February significant rulemakings report that the proposed rule mandating recorders would clear the White House's Office of Management and Budget Feb. 14 and then be published for public comment Feb. 27.
However, the rule still hasn't cleared the OMB, and given that rules usually take about 10 days to two weeks to be published after clearance there, it seems unlikely FMCSA will meet the Feb. 27 date of publication.
This marks the fourth month in a row the agency has missed its target date, and it's been nearly a year since FMCSA Admin. Anne Ferro told Congress that the rule could be published as soon as September 2013.
The agency then set a date of Nov. 18, before backing it up to Dec. 23, Jan. 28 and most recently Feb. 27.
FMCSA can't force OMB's hand on clearing the rule, but the agency continues to fall farther behind the ELD schedule set by the current MAP-21 highway funding act, which required the DOT to produce a rule within a year and have the rule take effect two years after that.
MAP-21 was signed into law by President Barack Obama in July 2012.
Click here to see more Overdrive coverage of electronic logs.