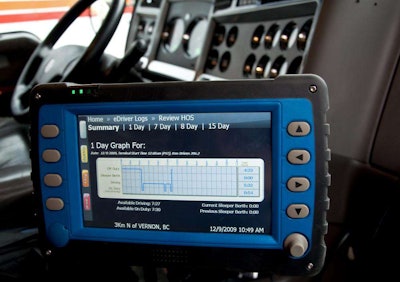 The Federal Motor Carrier Safety Administration has sent a Supplemental Notice of Proposed Rulemaking to the Department of Transportation's Secretary's office for review, and the agency expects to publish a proposed rule to mandate the use of electronic onboard recorders Nov. 18.
The mandate would also include other requirements for supporting documents for the hours of service rule changes that go into effect July 1.
The White House Office of Management and Budget must clear the notice for the proposed rule before the agency can publish it for comment in the Federal Register.
The last EOBR rule, which was made final in 2010, was struck down in 2011 after a federal court said the agency hadn't done enough in the rule to ensure drivers would not be harassed or coerced by fleets or and enforcement by using recorders. The notice — which was sent June 7 — acts as a supplement to FMCSA's 2011 Notice of Proposed Rulemaking and seeks to address the issues raised about harassment.
FMCSA plans to study driver harassment before issuing the rule by interviewing carriers about the issue. The results of another study — which seeks to determine whether recorders reduce the risk of fatigue-related crashes among trucks — are expected later this year, too. That study also examines hours of service compliance, what portion of the industry uses the devices, associated costs and other benefits of use.
Congress stipulated the FMCSA issue an EOBR rule when it passed the two-year highway reauthorization act last July. The act also required the rule to set performance standards, define "tamper resistant" in regard to EOBR and include safeguards to ensure the privacy and confidentiality of the data.