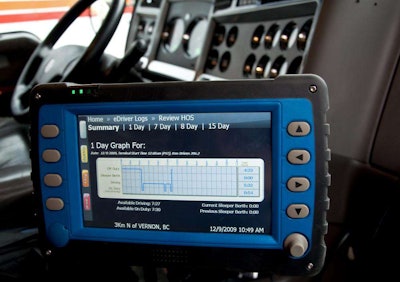 The White House's Office of Management and Budget indicated Dec. 13 it has not yet cleared the Federal Motor Carrier Safety Administration's electronic logging device mandate rule, but FMCSA indicated earlier this month it anticipates publishing a proposed rule Dec. 23.
The Supplemental Notice of Proposed Rulemaking was sent to the OMB by the Office of Secretary of Transportation Aug. 7, and though there's a 90-day limit on reviews, the DOT or OMB can choose to extend consideration on regulations.
A second ELD-related rule is also in the works and, per MAP-21 requirements, is designed to add protections for drivers to prevent fleets, shippers, receivers or brokers from pressuring or coercing drivers to work in violation of safety rules. FMCSA indicated it would be published in March, after the OMB clears it.
The upcoming mandate notice will supplement the agency's NPRM published nearly three years ago. It is to address issues raised in the 2011 appellate court decision, which vacated the previous year's final rule for not safeguarding against driver harassment.
In other regulatory news, the agency is also working on a proposed rule that would create a drug and alcohol clearinghouse of drivers that would require carriers to check the database before hiring a driver and to report failed and refused drug and alcohol tests.
The agency also plans to:
Provide a final rule mandating electronic stability control systems for trucks to the OST by March 21.
Submit a NPRM on truck speed limiters to the OST by Jan. 20.
Resubmit a Carrier Safety Fitness Determination NPRM to the OST by Jan 16
Release a NPRM amending the diabetes standard to the OST July 11.

Send a NPRM on enhancements to the Unified Registration System by April 7.