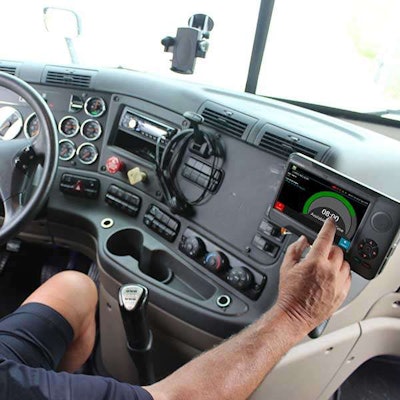 Known within the industry for its software, underlying several of the electronic logging systems on the market today, says Vice President Chris Nelson, the ISE Fleet Service group of the Innovative Software Engineering company now offers its own electronic logging product. Nelson describes the eFleetSuite ruggedized Android tablet connected to the engine's electronic control module (ECM) as one for those "who are not going to go above and beyond" in terms of fleet-management functionality, he says. It's for those "looking for a compliance-only product" without the bells and whistles — or the higher price tags — of many of the most common e-log devices out there.
The eFleetSuite solution initially began as a software package available to telematics providers for licensing. The opportunity for direct sales followed, particularly as ISE recognized the demand among smaller companies for a baseline compliance solution and developed its own hardware to house the software package for hours recording. An opportunity to sell direct to FedEx Ground independent contractors got the ball rolling on direct sales in a big way, Nelson says. "We then took it and rolled it out" to the wider trucking public.
The baseline system is available in what Nelson says will be a turn-key package for most owner-operators for $575, then $24 monthly for cellular service (financing options are available, too). In addition to e-logs, the software system's dedicated Android tablet comes with few extraneous capabilities, outside the ability to complete inspection reports, collect fuel-tax data for IFTA purposes and map compliance at a glance (showing available hours, historic routes and the like).
From purchase to installation, Nelson estimates most could be up and running in well under a week's time.
For small fleets looking for additional capabilities, ISE is a custom-software company, Nelson emphasizes. "We can do almost anything that someone would want us to do" through the company's professional services group.
As it is, the baseline product collects only necessary information for the purposes mentioned above in order that users aren't "put in a position of liability" in the event of any investigation — after a crash, for instance, in which case failure to utilize available information can be spun by lawyers as a deficiency in operation.
As for now, the solution is not listed on the Federal Motor Carrier Safety Administration's ELD device registry, but Nelson and company say they're working on fully certifying the product, pending information from FMCSA, as other e-log providers have also reported recently.