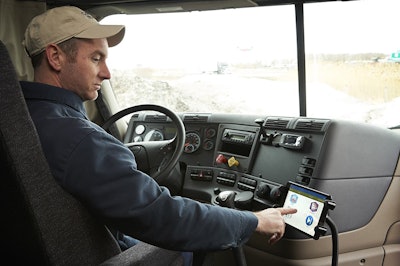 The Owner-Operator Independent Drivers Association has asked the U.S. 7th Circuit Court of Appeals to rehear its case against the U.S. DOT's rule to mandate the use of electronic logging devices.
OOIDA filed Dec. 14 a petition for a rehearing en banc, meaning it has asked all 12 judges on the 7th Circuit bench to hear its arguments against the ELD mandate and to issue a new decision in the case.
The lawsuit against the ELD rule was brought by OOIDA in March on behalf of two truckers, Mark Elrod and Richard Pingel. A three-judge panel for the 7th Circuit heard oral arguments from OOIDA and the Federal Motor Carrier Safety Administration Sept. 13.
The judges ruled Oct. 31 to uphold the ELD mandate, rejecting OOIDA's arguments that the rule violated truckers' Fourth Amendment right to privacy and protection against warrantless searches.
The motion for a rehearing leans on the same argument, arguing ELDs intrude on drivers' privacy by tracking their location, even during off-duty times spent in the sleeper berth. "The warrantless, suspicionless intrusion into this deeply personal information cannot be justified under the administrative search rationale that has been used to uphold impersonal record-keeping requirements and accompanying inspections," OOIDA writes in its motion for the rehearing.
The group also argues the DOT's rule fails to ensure confidentiality of truckers' ELD data. "The ELD rule presents the latest in a long line of FMCSA rules transgressing those requirements, and the panel's opinion to the contrary is plainly erroneous," OOIDA argues.
FMCSA said in an August court filing that trucking is a highly regulated industry, and the ELD rule fits within its regulatory jurisdiction. FMCSA also argues the rule will promote greater adherence to hours of service rules and thereby cut the number of truck-involved crashes.
OOIDA Executive VP Todd Spencer told Overdrive last month that the group may appeal the ruling to the U.S. Supreme Court if its request for a rehearing is denied.
See more coverage of the ELD mandate at the links below.