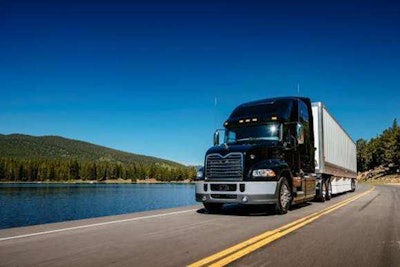 Mack Trucks and Telogis, a Verizon Company, are offering a free 30-day trial of Mack Fleet Management Services with Telogis Fleet to Mack customers.
Telogis Fleet for Mack is a management and telematics software solution that can be activated over the air and scaled to different fleet sizes. Utilizing proprietary data captured through Mack's factory-installed GuardDog Connect telematics hardware, and capable of of being run also via operators' smartphones, Telogis Fleet provides real-time visibility of truck and driver performance, an electronic logging device and more.
Mack models equipped with MP engines and GuardDog Connect hardware built after 2014 are eligible for the free trial, and up to 10 trucks per customer can be included. All features of Telogis Fleet for Mack are available during the free trial period, including Mack-specific diagnostic data, driver behavior scorecards, a fleet intelligence dashboard, vehicle location and history, and real-time alerts. Customers may sign up for the trial through June 30, 2017. No additional hardware is required, and activation is completed over the air. Customers can take advantage of the 30-day trial via this link or by calling (855) 767-7029.
Launched in 2014, Mack Fleet Management Services integrates proprietary vehicle data captured by Mack GuardDog Connect with industry-leading third party software providers, facilitating customer choice and offering a comprehensive, yet easy way to manage their operations and improve their total cost of ownership.
GuardDog Connect, which comes standard on every Mack model equipped with a Mack engine, is a proactive monitoring and repair planning solution that enables real-time diagnosis of potential issues. Working with Mack ASIST and Mack's live OneCall agents, GuardDog Connect integrates people and technology to deliver actionable information to maximize customer uptime.