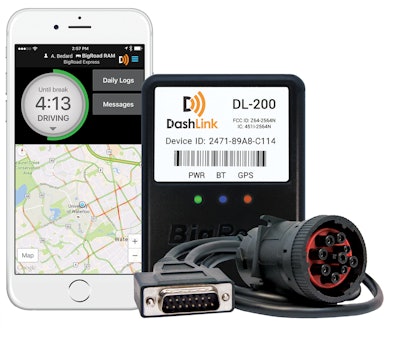 Following acquisition by the Fleet Complete company, BigRoad's DashLink ELD has self-certified as compliant with Federal Motor Carrier Safety Administration electronic logging device mandate requirements, the company said. BigRoad completed extensive product development and testing to ensure the DashLink ELD met the technical and functional specifications outlined in the FMCSA's ELD mandate Final Rule.
BigRoad is now listed as an ELD vendor on the FMCSA's list of registered ELDs, from which owner-operators will choose an ELD on and after December 18 of this year, if not already outfitted with an electronic log meeting the prior requirements of Automatic Onboard Recording Devices or exempted from the terms of the mandate.
Smartphone/tablet-based e-logs: Have you tried one of the many apps available to test to the e-log waters?
In the market for smartphone-app-based computer-assisted logbooks, from which Canada-headquartered BigRoad's ELD emerged, the company has established a foothold with owner-operators — as has a competitor, California-based KeepTruckin — far and away above most other players in that market.
Since Overdrive's 2016 operational survey, conducted in spring of that year, the above Spring 2017 polling shows evidence that more drivers were getting used to electronic hours recording by using one of such smartphone apps, which are available for hours-logging purposes with or without a connection to the engine's electronic control module. In the 2016 survey, just 19 percent of respondents who are operators and small fleet owners reported either using such an app or an engine-connected e-log. Just one year later, almost twice as large a share had done so, as evidenced by the above.
"We're excited to announce that our DashLink ELD is now certified," said BigRoad VP Jake McGuire. "With over 480,000 users, it was important to take the time to build the best solution available for fleets and owner-operators to achieve ELD mandate compliance. Certifying our product gives our customers the added confidence that they're working with a trusted provider."
DashLink plugs into the truck's diagnostic port and connects via Bluetooth to the BigRoad Mobile App on drivers' phones or tablets. The logging process is simplified by automatically recording drive times to create inspection-ready logs, eliminating form and manner errors. Via the BigRoad Web App, fleet administrators have instant access to driver logs to gain proactive insight into HOS compliance through the Roadside Inspection Risk Dashboard, reporting, and driver availability.
Find pricing and more via our up-to-date ELD provider chart below: