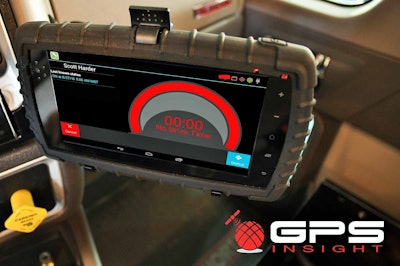 GPS Insight, a technology provider of tailored GPS tracking and e-log products, has registered and self-certified its electronic logging device as compliant with the Federal Motor Carrier Safety Administration ELD specifications. GPS Insight is now listed as an ELD vendor on the FMCSA's list of registered ELDs. GPS Insight worked rigorously to develop a product that not only guarantees compliance, the company says, but offers customers a powerful fleet management system designed with the user experience in mind to ensure an intuitive workflow for both drivers and office personnel.
"GPS Insight places a tremendous emphasis on product quality and integrity," said GPS Insight Vice President of Operations Elliot Batcheller. "We exercised extreme diligence in undergoing the FMCSA's ELD Certification process to uphold our standards of excellence." The company waited until FMCSA released final requirements for ELDs in August, Batcheller added, "and we were able to complete that diligence in early September. We are pleased to announce that we are now an FMCSA certified ELD vendor and look forward to providing our customers with our world-class solution."
More information about the GPS Insight ELD can be found via this link.