The Switchboard company has released its free mobile application, which with a onetime $250 investment in an ECM connecting device allows truck drivers to comply with the Federal Motor Carrier Safety Administration's electronic logging device mandate. The Switchboard ELD has been self-certified and registered with the FMCSA.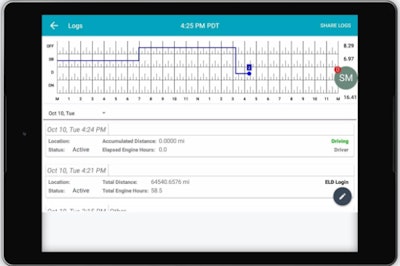 "We understand the challenges small business owners face, so we want to do everything we can to help owner-operators comply with the upcoming mandate as easily as possible" says Michael Ip, Switchboard founder. "Owner-operators and small fleets have enough to think about, so we hope our no-monthly-fee solution can help them get compliant and back to focusing on their core business: trucking."
Switchboard Mobile uses the same technology that has been built into its enterprise solution for larger fleets. Various capabilities on top of the logging device include electronic DVIRs (Driver Vehicle Inspection Reports), hours-of-service violation alerts and optional GPS history/geofencing alerts, which are able to be recorded using Switchboard Mobile if desired. With enough drivers demanding Switchboard Mobile, the company says it will enable support for a cheaper, $100 ECM module. That would make Switchboard the least expensive ELD option available for trucking fleets.
You can find more information about the company via Overdrive's quick-comparison ELD chart: