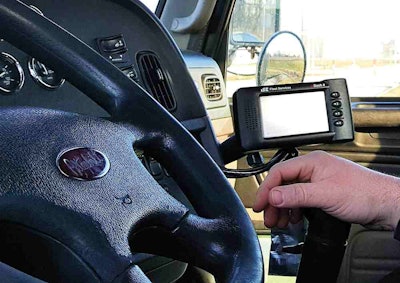 Citing a bevy of concerns, Indiana's attorney general has filed a request with the Federal Motor Carrier Safety Administration to delay the Dec. 18, 2017, compliance deadline of the agency's electronic logging device mandate.
The agency did not respond immediately to requests from Overdrive for comment. Any response from FMCSA to Indiana's letter will be added when available. It's unlikely Indiana's move will prompt the agency to delay the mandate's compliance date, which has been set for nearly two years.
In a letter filed with FMCSA's Chief Counsel Randi Hutchison on Wednesday, Indiana AG Curtis Hill Jr. says the deadline, now weeks out, "would place undue burdens on drivers and operators," arguing for "an immediate delay in the implementation of the new requirements." Hill did not propose a new date by which truckers should adopt an ELD.
Chief among Hill's concerns is the agency's registry of ELD providers and units, which allows manufacturers to self-certify their ELDs — with little vetting by FMCSA itself of the actual providers — as compliant with the rule's ELD specifications. "Drivers and operators are left without any way of ascertaining which brands and models of devices ultimately will pass muster," he writes in the letter. "They must 'fly blindly' into investing in products they are being required to purchase."
Hill's concerns about the self-certification process echo those of other industry stakeholders — including some ELD makers — who've also taken issue with the lack of vetting of the devices in the registry.
Devices listed in the registry, despite being certified by manufacturers, may "not ultimately be compliant or conform to the required" specifications of the agency's rule, Hill argues.
He also contends that the agency hasn't given manufacturers or roadside enforcers the tools they need to test and deploy the data transfer methods required by the ELD rule. "At present, too many questions surround the mandates with which drivers and operators will be expected to comply," Hill writes. "Even a cursory perusal of industry trade publications provides clear evidence that many drivers and operators are completely unprepared for the proposed changes."
The agency has taken steps in recent months to try to ease the transition from paper logs to ELDs. Of note, federal and state enforcement officials won't place operators out of service for lack of ELD compliance until April 1, though enforcers may note violations and issue citations and fines for non-compliance. Also, ELD violations won't count against carriers' CSA scores until April 1.
The Owner-Operator Independent Drivers Association last week asked the agency to exempt small fleets (those with less than $27.5 million a year in revenue) with no at-fault crash records from the ELD mandate for at least five years.
The agency has not responded to OOIDA's request, nor to Overdrive's request for comment on the association's request.