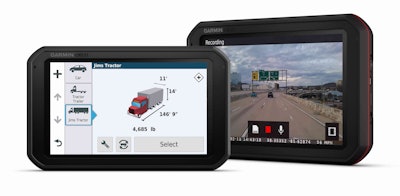 Garmin introduced last week a new line of 7-inch truck navigation units
–
the dēzl 780 LMT-S model and the premium dēzlCam 785 LMT-S, the latter of which includes a dashcam that automatically records and saves videos from detected incidents and provides warnings for impending forward collisions and lane departures. Garmin says this inclusion is an industry first among truck navigators.
Both units also come pre-loaded with company's ELD mandate-compliant Garmin eLog app. Both models feature high-resolution 7-inch displays with powered magnetic mounts. Both also pair with the company's subscription-free Garmin eLog, a compliant ELD unit. The new units allow drivers to wirelessly control, view and record hours of service on the dēzl navigator's display.
The dēzl units also feature built-in Wi-Fi, allowing drivers to update software, maps and points of interest without needing to use a computer. By downloading the free Smartphone Link app, users will also receive free live services for traffic and weather updates in addition to live parking information that finds available parking spaces at truck stops.
Core navigation features from the new dēzl series include custom truck routing options based on the size, load, and weight of the truck. Helpful route warnings provide alerts for upcoming hazards such as bridge heights, weight limits, sharp curves, and steep grades. The new dēzl series also offers voice control. Bluetooth technology is available for hands-free calling and smart notifications on the dēzl's display.
In addition to pairing with the Garmin eLog compliant ELD, the new dēzl navigators are compatible with the Garmin BC 35 Wireless Backup Camera.
The dēzl 780 LMT-S has a suggested retail price of $399.99 and the dēzlCam 785 LMT-S is $499.99. Both devices are expected to be available in June.