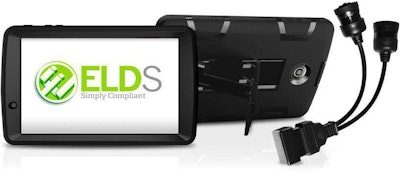 In the wake of the announcement last week that One20's F-ELD electronic log will no longer be supported after June 18, some e-log manufacturers have announced they are offering deals to current F-ELD users.
GeoSpace Labs is offering its "Pro" service, which carries a $17 a month fee, to F-ELD users for no monthly fee for a year. The "Pro" service is intended for fleets with more than five trucks because it includes more fleet management tools than the company's single-user version that has no monthly fee.
One20 users transitioning to GeoSpace can purchase the ELD hardware for $199. After the year of Pro without a monthly fee, owner-operators will have the option to convert down to the single-user version or pick up a monthly payment to continue the Pro service.
Additionally, the company will two-day ship its ELD, and cover shipping costs, for current F-ELD users. One20 members can email [email protected] or call 877-4GEOWIZ for more on transitioning to GeoSpace.
ELD Solutions is also offering a deal to current One20 ELD users, selling its ELD equipment for half price. The discount ranges from $99.50 to $149.50 off, depending on the package chosen.
To receive the discount, One20 customers can email their original F-ELD invoice to [email protected].