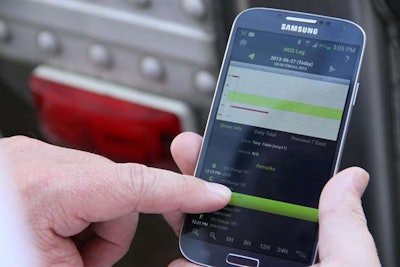 The Trucking Alliance, a coalition of some of the country's largest trucking companies, has issued a policy statement calling for state legislatures in all states to pass laws requiring intrastate drivers to use an electronic logging device.
Federal law requires states to review regulations and "achieve compatibility with the Federal Motor Carrier Safety Regulations," providing states up to three years to harmonize their safety regs with those from FMCSA. The federal ELD mandate was enacted in February 2016 (the compliance date for which was December 2017), meaning states have until next February to harmonize their regs with the federal mandate. As detailed in Overdrive's E-Log Shift series last June, many states have already taken steps toward adopting an ELD mandate. See in-depth coverage here examining the various state laws regarding ELDs, and here for a map of states that had taken up an ELD mandate as of last June.
However, the Trucking Alliance wants state lawmakers to go a step beyond simply harmonizing their regulations with those of the federal government. The Alliance, which is made up of carriers like Knight, Swift, Schneider, J.B. Hunt, Maverick Transportation and others, wants state legislatures pass laws to implement an ELD mandate for intrastate haulers.
Lawmakers and regulators in some states with sizable intrastate trucking markets — notably, California, Texas and Florida — have taken specific action on ELDs, delaying implementation of the ELD mandate for their intrastate truckers. California, for instance, is eyeing a December 2020 compliance deadline for its intrastate ELD rule. Texas regulators have set a December 2019 deadline for ELD adoption for intrastate truckers. The Florida legislature last year passed a law requiring use of ELDs among intrastate drivers by this December.