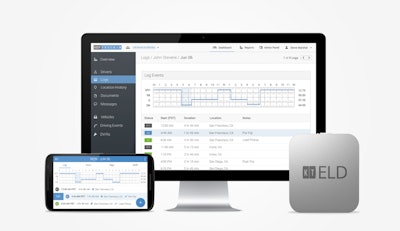 KeepTruckin announced Tuesday that it has opened up an app marketplace to allow integration of services from partner companies.
The menu of integrated options in the marketplace include products and services from:
Dispatch systems, such as McLeod Software, for sharing real-time status updates, messaging, and location data (GPS) to track drivers' availability and manage loads.
Brokers, such as Coyote and TQL, as well as loads boards and load tracking services from p44 and FourKites. By sharing location and other data with third-parties, drivers and fleets can more efficiently find freight and share update shipment status.
Insurance companies, such as Progressive, for sharing driving data to receive more accurate insurance rates through programs like Progressive's Smart Haul. New qualifying truck customers that use an ELD and sign up for Progressive's Smart Haul can save an average of $1,384 on their Commercial Auto policy premium for the initial policy period.
Fleet maintenance software, such as Fleetio, for automatically populating diagnostic trouble codes and odometer readings.
KeepTruckin is a smartphone-based ELD provider, and a supplier of a dashcam aimed at mid-sized fleets. It also offers fleet management software.