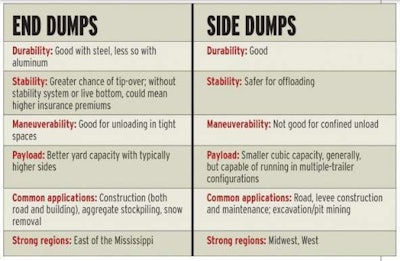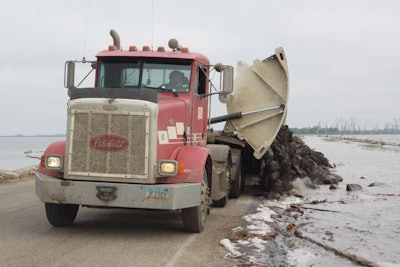 Considering all the choices in end- and side-dump trailers for materials-moving operations, determining the right type for your operation is no simple matter. For some applications, one type might work as well as another.
End dumps typically have higher sides and thus carry more cubic yardage, but not necessarily more weight. They're often made of aluminum to maximize payload. Some, though, are made of AR400 heavy-duty abrasion-resistant steel typically seen in side dumps.
End dumps have a reputation for a lack of stability when sitting on unlevel ground and the front of the bed lifts skyward to unload material. That risk of tipping over can give you higher insurance premiums, affecting overall cost of operation.
Newer types of end dumps, however, can be spec'd with a "live bed" – a conveyor belt that moves the load out of the gate without requiring elevation. Henderson Products takes that process even further with its BlackBelt system, which is wider – 54 inches instead of the standard 36 inches – and thus not limited to finer-grain material. To ensure long life in handling a wide variety of materials, the system's Load Sense Belt Tensioning also tightens the belt to match the load it's moving, releasing the tension once complete.
"There's a lot of variation in end dumps," notes Henderson Marketing Manager Brian Evans. "We feel that gives us the best of both worlds." He cites the system's ability to dump only a portion of the load at a time and handle stickier materials such as snow, asphalt and bottom ash.
Clement Industries doesn't offer a live-bottom system, but it's in the works, says spokesman Bill Garrison. They deal with tip-over risk with "a stability control system," he notes. "It only adds about $1,000 to $1,500 to the overall price."
Tops in versatility: Bottom dumps
Clement offers all three main types of dump trailers, and company representative
Bill Garrison says that the bottom dump is the best choice for a multi-functional dump trailer. "It's the most efficient way to haul material," he says. "It can haul anything and go anywhere." And since it relies on air instead of hydraulics, maintenance costs are lower.
Generally speaking, the most common applications for bottom dumps are stockpiling, material transport and asphalt paving. While some might question their utility in stockpiling, bottom dumps come with quick turnarounds, as they can be driven through the dump zone basically without stopping – a loader or bulldozer moves the material to the stockpile area.
Side dumps have their advantages, yet there's a regional aspect to their use. "They are found mostly in the Midwest and West," says TrailKing Product Support Manager Dean Badinger. "End dumps are more traditional back East, especially in confined spaces or for stockpiling aggregates in bunkers."
Gary Kuehnast, territorial sales manager for Jet Company, concurs. Because of enhanced maneuverability, he says, "end dumps are used for hauling into a pit or hopper. And in the West, side dumps are for building roads and other types of construction, and at oil fields" in places like North Dakota.
Side dumps can lay a row of aggregate, even over a Jersey barrier, without having to blade it, while traditional end dumps will leave a large pile all in one place, which then has to be repositioned – unless equipped with a live bottom, which allows partial unloading, as Evans notes.
Regional weight regulations can also influence trailer choice, says Rick Lawrence, sales manager for side-dump manufacturer SmithCo. "A lot of Eastern states have weight laws that don't follow the federal Bridge Formula," he notes. That means contractors in the East can't run doubles like they do out West, so they need the larger payload capacity seen in most single end-dump trailers.
In terms of capacity, Kuehnast acknowledges the limitations of a side dump. Given its higher sides, a 36-foot end dump can carry as much as 36 cubic yards, while Jet's same length of side dump typically handles only 23. Side dumps, however, bring better stability, stronger construction and reduced cost, when compared with aluminum end dumps.
You can also make up for the smaller payload in overall length, says Lawrence. SmithCo offers side dumps up to 53 feet in length, and shorter models can be run in trains in states where doubles and/or triples are permitted to conform to the federal bridge law. The company's side-dump design also differs from other side dumps by using AR400 steel for the tub and T1 steel for the I-beam frame, resulting in a trailer that's up to 2,000 pounds lighter than its previous designs.
Jet's side-dump design has patented features too, such as trunnion-mounted cylinders. This setup lifts from the bottom, allowing for a reduced 58-degree angle off vertical for better stability and a geometric advantage. Other benefits of the Jet configuration include reduced rocking when unloading, along with external tub supports, so there's no need for a center divider. The lack of a divider makes it possible to handle poles, trees and other elongated material.
"Side-dumps are better for excavation and handling rip rap and boulders," says Badinger. "Aluminum end-dump trailers get dented with boulders."
Beyond the specific applications mentioned above, Lawrence says there's no limitation to the uses of side dumps. SmithCo has "a side dump for every application," he says, and their dumps are also watertight. –This story by contributor Steve Temple