Meritor marked the production of its 10 millionth trailer axle made in North America Wednesday, January 30, at its Frankfort, Ky., manufacturing facility.
"This is an important milestone that underscores Meritor's long heritage of providing innovative, market-leading products," said Pedro Ferro, vice president and president for aftermarket and trailer. "Our experience in designing and manufacturing trailer components puts us at the forefront of axle innovation."
The milestone axle is destined for a Wabash National trailer that will ultimately be a part of the Werner Enterprises fleet.
The 195,000-square-foot Frankfort facility's 181 employees, representatives from other Meritor facilities, suppliers and customers and a wide range of dignitaries and members of the press were on hand for the event to further celebrate the company's diverse lightweight, durable and highly serviceable portfolio of trailer axles and suspensions. Today, the company produces more than 50 different axles, including straight, drop and crank products, for use in a broad range of trailer applications.
All Meritor trailer-axle products are made using American steel, "formed into American-made tubing and fabricated into finished axles" in the Frankfort facility, said Craig Frohock, general manager for aftermarket and trailer in North America.
Taking pride in its American heritage was something newly elected Congressman Andy Barr, speaking at the event, lauded the facility's employees for. "Congress could learn a lot from Meritor about teamwork and efficiency and how to get jobs created in this country," he said. "You provide the instruments of commerce every day. We have to do everything we can in the Congress to make that easier on you."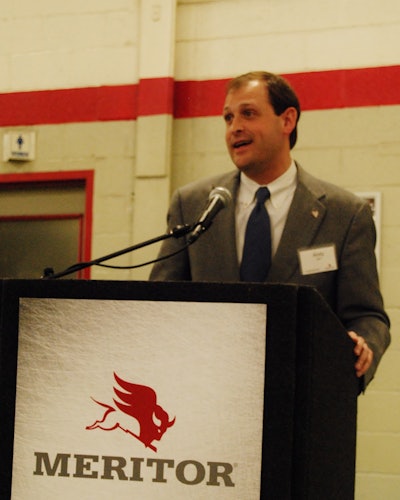 An axle commemorating the 10 millionth will be signed by all employees at the Frankfort plant and will become a permanent display at that facility, which began producing Meritor trailer axles in 2001. Meritor reached the 5-million-trailer milestone at a different facility in the first quarter of 1990. Sherry Benson, customer service representative at the Frankfort facility, was on hand for that celebration and was honored this week for here long service to the company's trailer business. She began her career with Meritor in 1976.
Meritor entered the trailer undercarriage business in 1948, said Frohock, and throughout history focused its efforts around "a few core values. … The durability of our products is at the forefront of what we do. Products you see today were developed through [a design process driven by] meeting with customers with a focus on cost of ownership." Ultimately, the business is about "delivering bottom-line results," he added.
"Reaching this milestone is a testament to the Frankfort workforce and their commitment to building products that deliver superior results," said Brett Fisher, Frankfort site manager. "Meritor's trailer products are manufactured to the very highest quality standards to provide a reliable and long-lasting solution for customers around the globe."
Meritor trailer systems and components are backed by Meritor's industry-competitive warranty, global services and support from the nationwide DriveForce professionals.