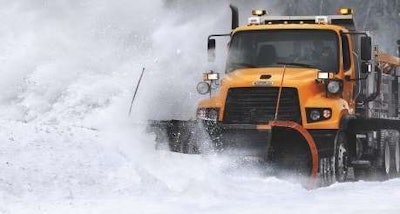 Some vocational trucks rarely operate at highway speeds. But at the bottom of a steep grade, a dump truck with a 50,000-pound load of gravel needs a good launch at the hill, and that requires torque in combination with the right transmission and axle ratio.
When spec'ing for your application, says Brian Daniels, powertrain product manager for Daimler Trucks North America, consider both torque and horsepower ratings carefully. "Horsepower is the energy that maintains a vehicle's momentum," he adds, "but the value really lies in the relationship between horsepower and torque. Torque produces the force that gets the vehicle rolling in the first place."
Talk to any dealer you're working with about the load your new truck typically be hauling, "and on what kind of roads," says Daniels. "There has been a trend toward 'downspeeding' and, if spec'd correctly, you can have an engine that operates efficiently at lower RPMs and still pulls the loads you need in your business."
In the past, heavy duty vocational trucks may have been spec'd with 550 hp and 1,950 lb.-ft. of torque to get the load rolling. Today, 470-hp engines with 1,850 lb.-ft. torque can do the job. These newer engines get better low-end torque, and with that comes higher horsepower at lower rpms.
Freightliner's monthly Severe Duty Report offers insights into other issues relative to vocational spec'ing and the company's SD line of Severe Duty equipment.
However, be certain to maintain startability with appropriate gearing to really take advantage of the benefits of a lower operating range in vocational applications. Look for updated shift schedules to ensure effective operation of the engines in a lower rpm range.
"Today's engines get to the sweet spot sooner and stay there longer," says Daniels. "In a Freightliner heavy duty vocational truck with a Detroit DD13 engine, you can operate down at 1,200 or even 1,100 RPMs and still provide close to maximum torque for the rating selected. You can stay in gears longer and still have the performance and drivability you need, without vibration."