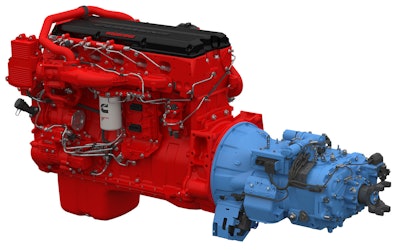 Eaton and Cummins unveiled a new powertrain package for the North American linehaul and regional haul truckload and LTL markets that could deliver 3-6 percent fuel-economy improvements over comparable Cummins/Eaton engine-transmission pairings long available.
Find full details on the ISX15 SmartTorque2 415 and 450 with Eaton Advantage Series automated transmission in this story at our sister magazine CCJ's website. The story, filed from a press event at the American Trucking Associations' Technology and Maintenance Council annual meeting in Nashville, Tenn., wraps up a talk in which reps from both companies detailed the package. Through various custom enhancements and optimized design it will enable significant "downspeeding" of rpms at highway cruise speeds, a crucial element of its fuel savings.
Follow this link for the full story.