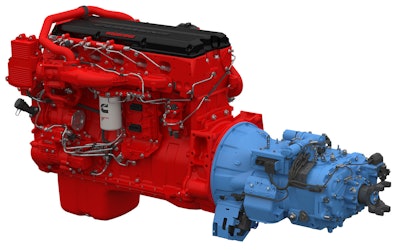 Joining its 15-liter counterpart, the Cummins ISX12 will soon be available in the SmartAdvantage powertrain partnership between Cummins and Eaton, the two companies announced this week at the American Trucking Associations' annual Technology & Maintenance Council in Nashville, Tenn.
Cummins and Eaton last year announced a partnership in which the engine maker's ISX15 would be paired with the Eaton Fuller Advantage Series automated transmission and would deliver 3-6 percent better fuel economy.
The two manufacturers say the new ISX12 and Eaton transmission — dubbed the SmartTorque2 package — similarly will deliver 2-4 percent fuel economy savings.
The package will be offered with the ISX12's 370-hp engine with a torque of 1150 lb.-ft. to 1450 lb.-ft. and the ISX12 425-hp engine with 1350 lb.-ft. to 1650 lb.-ft. of torque.
The package will be available later this year.
Cummins and Eaton also announced a powertrain partnership for the Cummins Westport ISX12 G natural gas engine, which will be paired with the Eaton UltraShift Plus automated transmission. That package will be available next year.