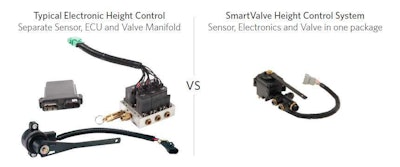 Available now in a retrofit kit and via OEM truck orders in the fall, Hadley representatives say, is its new SmartValve, which combines several separate components into one: the valve manifold itself, an external sensor, and the associated electronics (see illustration). The SmartValve's compact solution combines these into one part. For more of the particulars on the high-frequency drop-and-hook operations where the SmartValve could likely see its greatest return on investment, as well as Hadley's plans for the device's future, see Overdrive sister publication CCJ's story, filed from a press event at the American Trucking Associations' Technology and Maintenance Council's Annual Meeting in Nashville this week.
In real-world testing, company reps say, drivers have appreciated the assist the SmartValve electronic height control system can provide in coupling, reducing fatigue and injuries seen while raising and lowering landing gear during coupling as well as reducing trip out of and back into the cab.
Hadley has released the following video detailing some of the benefits operators will see from the new system.
[youtube AwxUUk6hxe4 nolink]