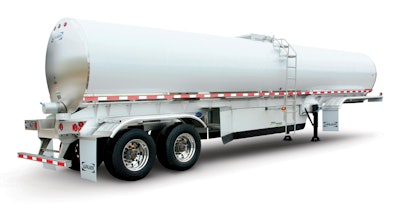 The Walker Group, a division of Wabash National Corporation and a leading producer of liquid transportation systems, recently introduced an optional DuraPlate AeroSkirt designed specifically for tank trailer applications. The AeroSkirt, common in dry van and refrigerated van trailers since its introduction in 2009, delivers fuel economy savings up to 7 percent in tank trailer applications, based on field tests with a leading tank truck carrier.
The DuraPlate AeroSkirt is made of proven structural composite material consisting of two external steel skins thermally bonded to a high-density polyethylene (HDPE) core, for superior strength that resists damage, the makers say. A proprietary spring-bracket design allows for inboard and outboard deflection, to further resist potential impact damage, leading to longer service life.
The Walker Group also introduced a next-generation composite jacket in 2012 that reduces tank trailer weight by at least 250 pounds and is more impact resistant than traditional stainless steel wrap. The composite jacket was featured at the annual Walker Group Expo in June 2013. In addition, the second-generation Lean Duplex tank trailer, introduced in 2010, continues to offer customers a new type of stainless steel that offers improved temperature performance, cost stability and corrosion allowance while reducing weight by 700 pounds from the typical DOT 407 chemical tank trailer. Brenner Tank, a unit of The Walker Group, originally introduced Lean Duplex to the market in 2006, when nickel costs escalated to nearly $25 per pound, essentially doubling the price on common chemical tank trailers.