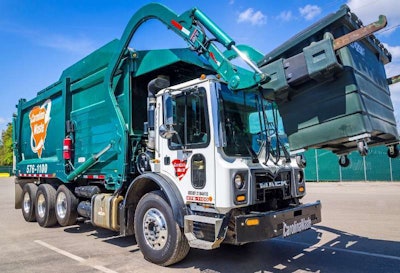 North Charleston, S.C.-based Carolina Waste & Recycling got its start "from scratch," says company cofounder Scott Fennell, who launched the outfit with his father, George, in 2002. The company followed, however, a previous business, Fennell Container Company, founded in 1973 and sold to Republic Services in 1995. Carolina Waste built on lessons learned there — the Fennells exceeded Fennell Container's revenue in half the time, and today their $25 million book of business along coastal S.C. routes employs 125 people, including around 70 drivers.
Between waste transport, processing and recycling, and landfill services, the company handles more than 800 tons of material daily with 500 construction customers and trash pickup for 15,000 residential and 4,000 commercial properties and the city of Charleston.
The 60-truck fleet is comprised mostly of Mack models, which Fennell says he turns to for reliability on rough-and-tumble urban routes and in and out of landfills. To help enhance both safety and customer service, each truck is outfitted with a brake retarder system to help maintain a steady speed when traveling downhill, and every truck is outfitted with a tablet-driven route management system, allowing the driver to not only record service calls and report items on pre- and post-trip inspections but to also photograph any issues, such as overloaded containers or vehicles blocking pickup. Drivers can send the data back to the office before they even complete their route, and the photos provide support for issues that previously might have been open to dispute.
Fennell says his maintenance workers have adjusted to the higher-level technology with the newer Macks and anticipates they will continue performing most of their own maintenance in-house. Carolina Waste's sales rep at the Hughes Motors Inc. dealer lauds the company's maintenance prowess. "They truly are a top-notch operation," Peek says. "I challenge you to find another refuse company that does such a good job on maintenance. From the oldest to the newest truck, you can hardly tell them apart."