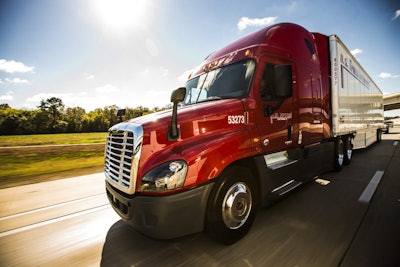 Seven U.S. fleets representing nearly 11,000 tractors and 26,000 trailers have signed on to participate in Run on Less, a first-of-its-kind cross-country roadshow designed to showcase advancements in fuel efficiency this fall.
Albert Transport, PepsiCo's Frito-Lay division, Hirschbach, Mesilla Valley Transportation, Nussbaum Transportation, Ploger Transportation, and US Xpress each will take part in the three-week-long exercise to demonstrate how Class 8 trucks can use different technologies to achieve the best possible fuel economy.
"They're some of the leading fleets in the country in terms of fuel economy and freight efficiency," says Mike Roeth, executive director of the North American Council for Freight Efficiency (NACFE).
Each truck will be outfitted with a combination of commercially available fuel-saving technologies – including truck and trailer aero upfits and 6×2 axles among other things – determined by the fleet in an event that Roeth says is designed to prove there are multiple ways to operate efficiently.
Drivers from each operation were selected based on their ability to positively affect fuel economy through their driving habits. Each fleet will select its own route and the test fleet is made up of three Freightliner Cascadia, two International ProStar and two Volvo trucks.
"That's a relatively good mix," Roeth says, adding NACFE left tractor OEM up to the participating fleets.
Geotab will install its devices in all the trucks participating in Run on Less to measure fuel usage, idle time, cruise control usage and more. Results, including fuel economy, freight efficiency, and dollars and carbon saved, will be tracked and reported during Run on Less via runonless.com.
As part of the Run on Less initiative, Pilot Flying J has donated $1,000 in fuel to each participating fleet.
The rolling roadshow will kick off from multiple locations across the U.S. and end at the inaugural North American Commercial Vehicle (NACV) show in Atlanta Sept. 25-28 where final results will be announced, and drivers will showcase their equipment and share fuel economy learnings and best practices with attendees.